The importance of investment in cloud storage and computing has been reinforced by the COVID-19 pandemic. These solutions allow you to work more efficiently anywhere, but precisely through ubiquitous and universal access, they present security risks that may result in data loss or damage.
We've compiled six reasons to justify investing in cloud computing and cloud storage, as well as five tips for choosing your supplier correctly.

Reasons to Invest in Cloud Computing
An efficiently functioning company is essential to your productivity. Outdated it systems can be a real obstacle in this respect. Cloud computing is a fantastic way to boost and improve business operation.
It allows employees to share and collaborate on documents over the Internet, wherever they are. But it also means that your data isn't only protected in a physical location and can be lost or damaged anywhere.
If these assumptions were valid before COVID-19 now, that there are already ways to control the pandemic more effectively, these factors are even more relevant. During the pandemic there has been an even greater exposure of the gaps and criticality of the systems to ensure the functioning of organizations.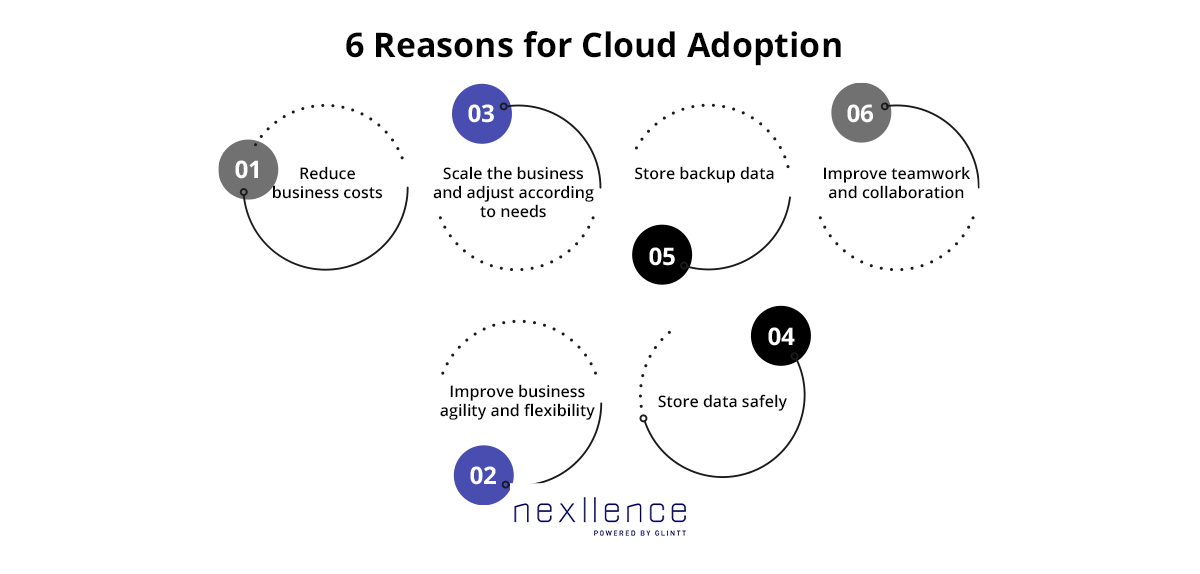 Investment in cloud computing and storage is justified with a few arguments:
Reduce business costs;
Improve the agility and flexibility of companies;
Scale the business and adjust according to needs;
Store data safely;
Store backup data;
Improve teamwork and collaboration.
1.

Reduce business costs

The creation and management of data centers on premises for your business can be very expensive as it implies:
Buy equipment;
Hire people to install and manage it.
If you choose a cloud computing solution,the investment is gradually made, being able to purchase the right services for your business in terms of:
Number of users;
Storage space;
Features.
In practice, you can reduce costs with a cloud computing solution tailored to your business and tailored to your reality and requirements. Nexllence can help you develop the solution tailored to your business.

2.

Improve business agility and flexibility
Cloud computing allows your teams to work more flexibly from any location with Internet access (office, home, others).
In this way, you can:
Establish more flexible working arrangements;
Reduce costs.
At the same time, documents can be updated in real time. So everyone in the organization has access to the latest data, anytime, anywhere.

3.

Scale the business and adjust it according to the needs

Compute and storage capacity should increase in line with your business growth.

With a traditional system you will sometimes have to:
Buy and maintain extra licenses;
Acquire servers and storage space.
By opting for a cloud computingsystem, everything can be resized without worries. Just upgrade storage capacity, cloud computing, and functionality in just a few minutes.

4.

Securely securely store data
Data stored in the cloud is secure if you have adequate cybersecurity systems.
On a traditional system, if you don't have a backupsolution, and lose your storage due to theft or damage, the data will be lost forever.
In the cloud, as in your own data center, you can implement various levels and types of security, with different cost and protection levels. But, as a general rule, protection in cloud computing environment is superior to what is obtained on premises and has similar costs.

5.

Have backup data storage

Traditional systems require data backup storage. For its part, a cloud computing system does not require an established backup system. This is another service that can be included – with greater or lesser flexibility and protection.

All data stored in the cloud is:
Accessible anywhere;
Away from a protected Internet connection;
Redundant;
In this way, all employees can access the company's data, systems and applications.

6.

Improving teamwork and collaboration

Cloud computing is ideal for companies that rely on teamwork with high levels of collaboration. In practice, almost all organizations. Your employees can:
View, share, edit and comment on documents and projects in real time;
Being in the office or in telework;
Stop having to repeat the data entry.
To choose the best cloud computing solution for your business, you must compare multiple cloud service providers in terms of:
Ease of implementation;
Costs;
Features.
5 Tips to Select Your Cloud Computing Provider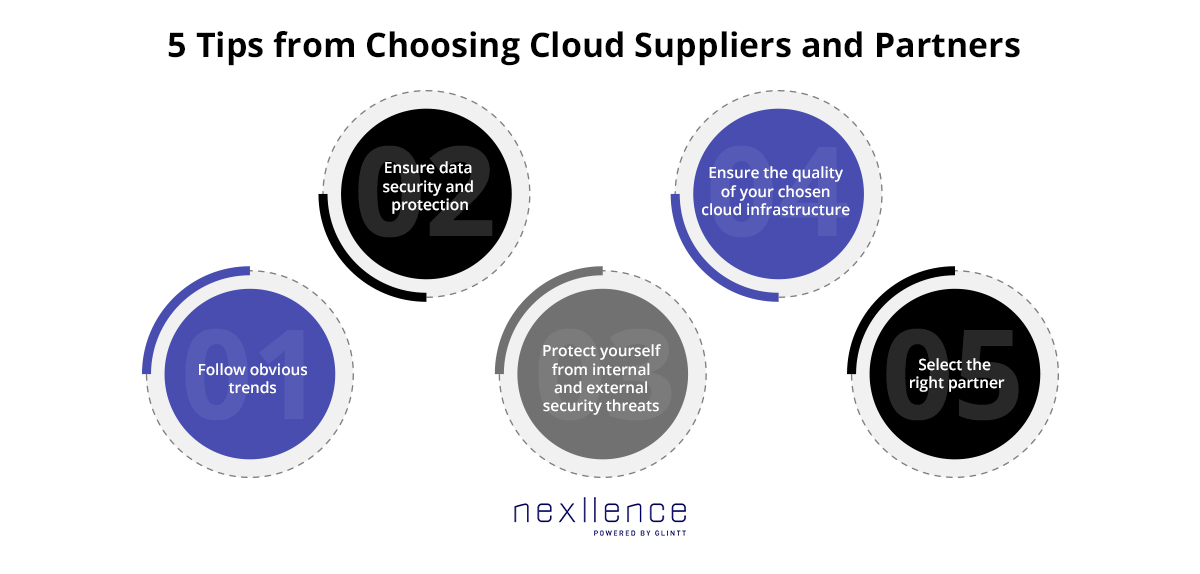 1.

Follow obvious trends

We can risk saying that all industry experts agree that cloud computing and storage solutions are the future of enterprise technology. We refer to both infrastructure and platforms or services.

Although the growth trend comes from behind, it is the volume of new users that catches the eye.

The data show that, post-pandemic, companies are ready to re-establish their business and resume investments that will make them more innovative, agile and competitive.
Also, the time to invest is perfect. Both technology and the market are mature enough to popularize the cloud.
2.

Ensuring data security and protection

The curve of adoption of cloud solutions could be even faster. But security remains a concern for 66% of IT professionals who consider security risk as their primary concern when migrating to the cloud,the CIO Research Center Report Security reads.

And the concern is right. The average cost of a data breach in 2020 was $3.86 million, a report by IBM and thePonemon Institute shows
Increased use of cloud solutions also means more cyberattack treatments, making security more important than ever.
3.

Protect yourself from internal and external security threats

To understand cloud security issues, we can look at them from two different perspectives: internal and external.
External threats
Malwares focused on data breach or data loss;
Denial of Service (DoS);
Natural disasters;
Physical security issues.
And if you think you've seen it all, reconsider. About half a year ago, a man was arrested in Texas for trying to blow up an Amazon data center.
The global pandemic has been another relevant issue. While many companies rushed during the blockade to implement cloud solutions, for their part, work from anywhere (WFA) also expanded the risks.
In 2020, there was a 485% increase in ransomware attacks compared to 2019, according to Bitdefender.
Internal threats
While external threats are significant, the biggest problem remains internal, according to Cyber Security Intelligence 22.90% of all data breaches are caused by human error.
The wrong configuration of a single application can be linked to multiple business processes, affecting suppliers, balance sheets, and regulatory compliance. Infrastructure as Code (IaaC) can be used to avoid poor configuration at the time of deployment, but also to continuously verify that the infrastructure remains in its original state, without modifications made by internal or external actors.
4.

Ensure the quality of the chosen cloud infrastructure

Preparation can be the secret to the success of your implementation. It is indispensable to:
Prepare in detail the cloud infrastructure where it will operate;
Identify, plan and design the right cloud infrastructure, platform or service based on the reality of each company.
Always taking care to avoid the dazzle on the concept of simplicity of the cloud.
Not everyone knows how or has the right tools to eliminate solution errors. Many companies are still unprepared to respond to new cloud-based threats, which will incur fines and penalties for the lack of adequate preparation for new security and compliance considerations.
5.

Select the right partner

Selecting the right partner defines the success of the project implementation. Look for entities with:
Proven experience;
Relevant industry certifications;
Right teams and solutions.
Only in this way will you have "peace of mind" throughout the migration process, which allows you to:
Save money;
Save time;
Ensure reputation (the most relevant 'good').
The importance of these issues has been increasing to such an end that President Biden recently appointed two former Veterans of the National Security Agency to government cybersecurity positions, including the first National Cyber Director.
The White House has asked Congress for $110 million in new funds for 2022 to help Homeland Security improve its defenses and (try) to hire the increasingly scarce cybersecurity talent.
At scale, in Portugal, these concerns and investment decisions are also and again on the agenda in this post-pandemic period.

If you want to reduce costs, improve the agility and work of your teams;


If you want your information systems to monitor the development of your business in security;


If you want to have data storage with protection and resiliency;
Cloud computing is the solution! The time is now! Decisions will have to be made quickly, but consciously and always using the right partners.
LEARN ABOUT CLOUD MANAGEMENT SERVICESCLOUD