The digitization of identity is the evolution that has facilitated the day-to-day life of citizens. Both in Portugal and in Europe, digital identity is a theme that raises successive challenges and solutions, in which Nexllence has had an active participation.
Carrying out our personal authentication through digital means is already possible in various ways, not only in Portugal, but also throughout Europe.
Advances in the reconciliation of digital identity at European level have simplified circulation throughout the Schengen area. In this area, free of borders, citizens of the European Union and some associated countries are allowed to move without restrictions, both in tourism and at work.
The digital identity models of each country do not always facilitate the unification of authentication processes at a European level. It was necessary to develop measures to articulate these data quickly and safely.
What is Digital Identity?
We can define digital identity as the ability to obtain individual, valid and reliable authentication using a computersystem. That is, an individual, through a computer interaction, can validate his identity, information and personal attributes.

Digital Identity in Portugal
Portugal is a country evolved in the digitization of public services. Just think that for many years it has been possible to validate and deliver our tax returns digitally.
The transition to a single identification document, the citizen card, launched in 2008, was a very significant advance. This support has optimized the validation of our digital identity with various services and entitie
The citizen card we use today represented changes with enormous scope. In a single card, more precisely on your chip, information was added that you replaced:
Identity Card;
National Health Service (SNS) user card;
Taxpayer Card;
Social Security Beneficiary Card;
Voter card to vote.


The combination of data from different public entities on the citizen card required the creation of a computer infrastructure to connect all systems. Thus, the nasceu a Public Administration Interoperability Platform IAP), was born, a Nexllence project.
Digital Identity in Europe
Like Portugal, the other countries of the European Union have created their own forms of digital identity. Every European citizen has their digital identification, associated with their country.
However, the free movement of persons within the Schengen area must be safeguarded. From this need came the regulation eIDAS,which allows to overcome the challenges of the coexistence of different forms of digital identity.
eIDAS is a network of authentication systems that allows, within the Schengen area, any citizen to use the digital identity issued in his own country.
That is, each country has its computer authentication system (in Portugal is the Autenticacao.Gov, developed by Nexllence) and all integrate later in the eIDAS network that speeds up the communication of these systems with each other.
7 Digital Identification Solutions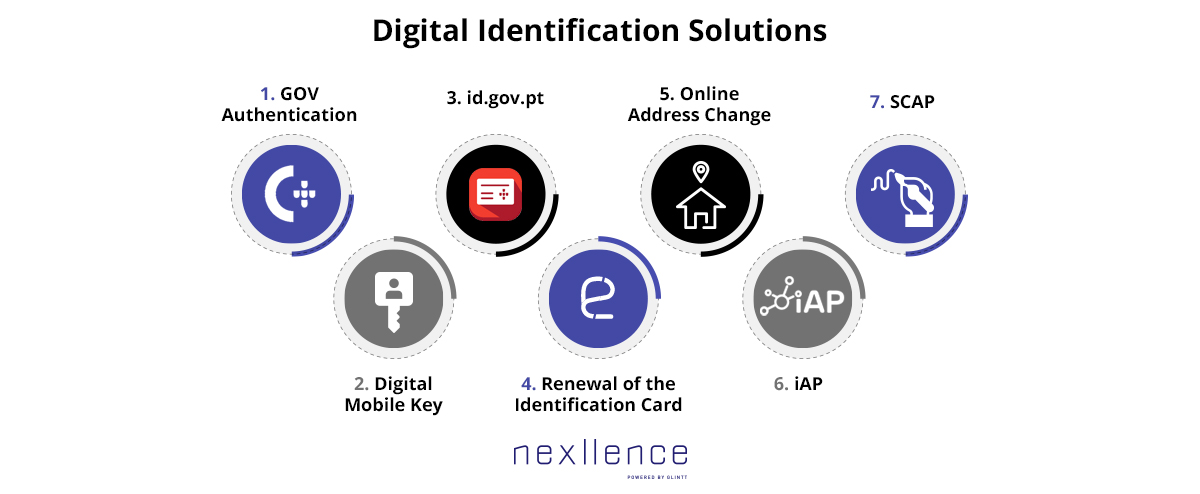 1.

GOV authentication

This is the Portuguese authentication system the one that integrates the eIDAS network. All public entities sites in Portugal use this platform that offers, among others, two main alternatives for authentication:
Using a citizen card reader;
Using the Digital Mobile Key (CMD), an Nexllence project that functions as a citizen card in the cloud.
2.

Digital Mobile Key

The Digital Mobile Key allows the citizen to have a single login, without the need for a citizen card reader. It allows you to securely sign digital documents and access multiple entities portals.
3.

ID.gov.pt

The APP ID.gov.pt aims to dematerialize ID cards (such as the citizen card and driving license) and replace them as forms of identification. With this solution, you can leave your wallet at home and always have with you, on your smartphone, the data you need to validate your identity.

This APP was developed by Nexllence for AMA in early 2019 and is accessible for IOS and Android. It is a unique solution that allows you to capitalize on autenticacao.gov, iAP and CMD.

Click on the video to learn about the APP id.gov.pt
4.

Renewal of the Citizen Card

This solution allows you to renew the online citizen card, without the need to go to a counter of the Institute ofRegisters and Notary (IRN).

It is available through the ePortugal Portal and saves time and privileges digital media.
5.

Change of address online

The online address change allows you to simplify this process and dispense with a visit to the IRN. Now, when you change your address you can easily make the change online, on the ePortugal Portal.
6.

iAP

iAP is a platform for interoperability of public administration that allows the exchange of information between different entities and provides electronic services to bring citizens and companies closer to the services they use most in public administration.
7.

Professional Attribute Certification System (SCAP)

SCAP is a system that, in addition to personal identification, enables authentication and signing of documents with professional attributes.

The applications developed by Nexllence result in a simplification of digital authentication of all of us.

At the same time, the security of digital identity is more protected.
In Portugal and Europe, Nexllence authentication solutions significantly improve the lives of citizens.
KNOW THE DEVELOPMENT OF NEXLLENCE APPLICATIONS