Imagine that you run a rapidly growing business and, in order to leverage sales and reduce operating costs, you need a technological solution to support this need.
It has already found several standard products on the market and concluded that none of them fully meets the requirements you want. In addition, it wants to be free from the dependence of an international manufacturer. After seeing the standard offer, you're considering opting fora bespoke software developmentcompany.
It is in a context of this nature, in which the customer seeks a solution tailored to their needs, that enter the so-called tailor-made software companies.
Tailor-made software companies offer their customers the possibility to deplan and build a tailor-made solutionthat, will bedelivered within a pre-agreed time period.
So far everything seems headed for a normal scenario of contracting services. The client prepares a proposal request or Request for Proposal (RFP), performs the procurement process,identifies the partnerthat offers him the most guarantees and advances to the formalization of the contract.
The expectation of those who buy is that "the investment value is closed" and that on the scheduled date will have the solution ready, without bugs and working.
Experience tells us that «it will not be quite that way», because the development of bespoke software has its vicissitudes, incompatible with such linear thinking. Let's address some of the most relevant situations.
7 Things You Need to Know When Developing Bespoke Software
We then present a set of things to take into account when you go for a custom-made, built- and customized software project for the customer. I'm sure all this is going to happen.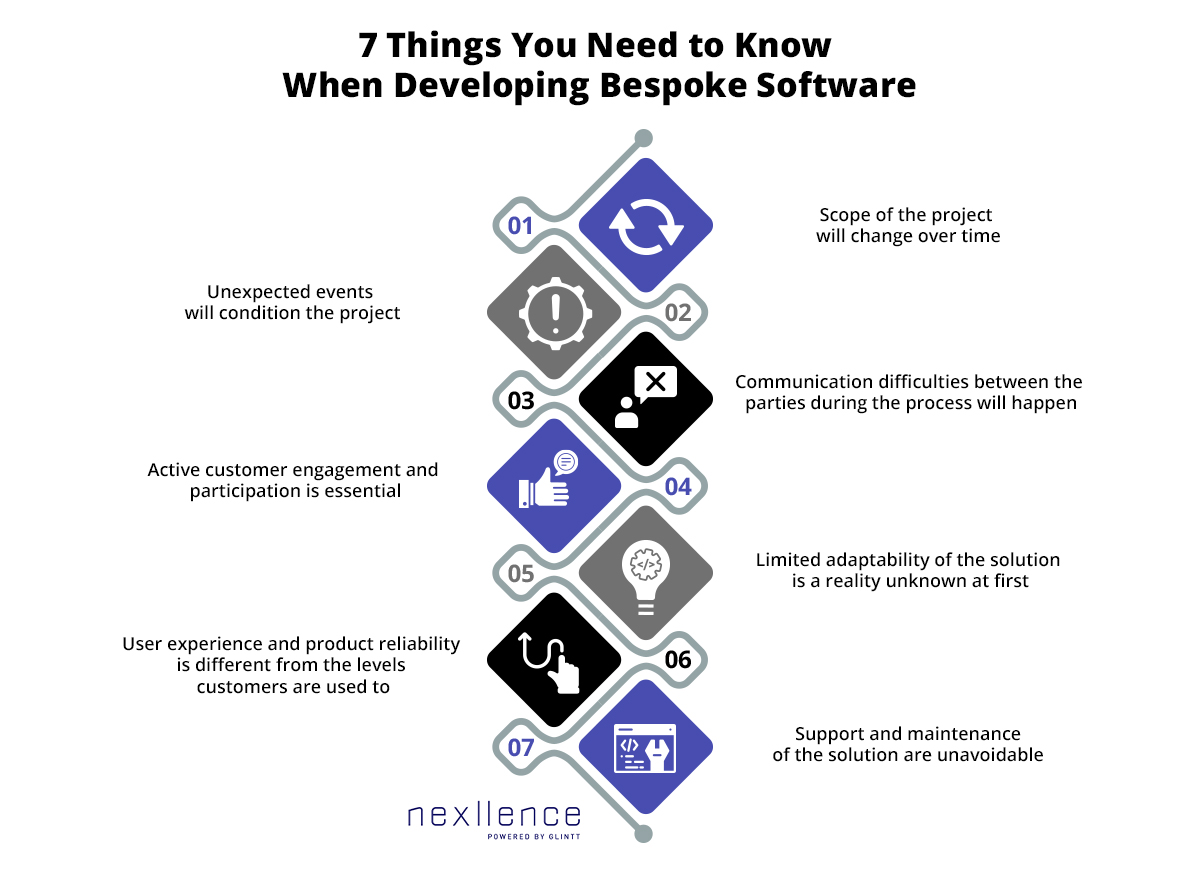 1. Scope of the project will change over time
It is almost a truth of La Palisse: few projects are exempt from one or more changes to the initial scope. This fact is neither positive nor negative. That's what it is. It is part of any dynamics of building applications and computer solutions.
We need to know how to manage the changes and, above all, prevent the project from becoming a major change request.
2. Unexpected events will condition the project
That is, you have to expect the unexpected. It is impossible to predict everything that might happen during the execution of a project. Particularly when they are long-term projects.
Everything may seem foreseen: the risks can all be identified, the action plans well defined and everything takes place under close surveillance. But extraordinary and completely unexpected events can occur that will force unforeseen adaptations.
The COVID-19 pandemic was an unexpected event that could in no way have been considered a high risk in ongoing projects in early 2020.
3. Communication difficulties between the parties during the process will occur
Communication problems are constant and have negative effects in the course of a project. The projects are made by people. And even if they all speak the same language in which the scope and objectives are communicated, they may have difficulty understanding each other.
In a project, the risk of misunderstandings and differences in expectations is very high.
Again, it is normal for these misunderstandings to exist, but it should be avoided that they contribute to the wear and tear of the teams.
4. Active customer involvement and participation is essential
Engaging in tailored software development projects requires, at first, a huge customer engagement throughout the solution implementation cycle. This participation is even more important in the phases of:
Design: when requirements are specified;
Validation: when the client checks that the solution conforms to the requirements.
The client is part of the project team and plays a crucial role in its success.
5.Limited adaptability of the solution is a reality unknown at first
Building a solution tailored is far from synonymous with the sake that the solution will have an infinite capacity to meet all future requirements.
Is it possible to adapt the solution? Yes, it is. But with the proper cautions and without misusing the purpose for which it was thought.
This is a very important aspect, and it sometimes motivates some controversy, because the purchasing person does not always understand that the architectural decisions of the solution condition the scope of its use.
6. User experience and product reliability is different from the levels customers are used to
Users are increasingly demanding and critical of the software used on a day-to-day life. All have at their disposal standard products developed by industry giants that invest millions of euros in Research and Development (R&D) and user experience/interface usage (UX/UI). Large companies such as Microsoft, Apple, Meta, Samsung, LGhavea much larger distribution scale thanany custom-made project.
It is positive to be demanding and rigorous in relation to the quality and reliability of tailor-made solutions, however the customer must adjust expectations:
No tailored software company can guarantee levels of quality and reliability equal to or higher than products developed by major software manufacturers.
7. Support and maintenance of the solution are unavoidable
It is about to create a computer solution that can live without the need for preventive, corrective and evolutionary maintenance.
In a first phase of use it is acceptable that tailor-made solutions have more corrective maintenance needs than standard market products.
It is also acceptable that, due to the introduction of new features over time of use, more incidents may occur.
Support and maintenance will be a constant throughout the solution lifecycle.
You know what's going to happen: it's time to move on with your project!
This item is far from wanting to make a comparison of the advantages and disadvantages of a standard or tailored developed product. For this purpose, you can refer to this comparison.
The aim of this article is to sensitize all stakeholders that the path to the development of tailor-made solutions is a challenge in every way.
The management of expectations is crucial;
Everyone must be involved and aligned in a spirit of collaboration with a view to the final result.
In a few, the way to achieve auspicious results is always a path of stones. But it's worth it when:
If you want to have a solution with specific requirements appropriate to the needs of your business;
If you want to have a solution that results from the contribution of your employees and partners;
The market has an offer gap that meets the requirements your business needs.
Developing a solution tailored is the solution. And it's never too early to start! Get ready to work as a team with your supplier, with the awareness that nothing can be achieved without an effort on both sides.

LEARN ABOUT APPLICATION DEVELOPMENT SERVICES