Both technology and innovation are the main objective of serving the business of companies and supporting their digital transition. It is up to technology companies to make this possible by working on a model of co-creation and partnership.
Technology has been evolving, becoming increasingly integrated and complex. To this do so:
The growing challenges for organisations and citizens in terms of privacy and cybersecurity;
Global convergence to the cloud;

The expectation of a rapid digital transition of companies and businesses.
The COVID-19 pandemic demonstrated that technological innovation with transformative business capacity was already real. It was clear the need for reorganization by technology companies. It is vital to establish new partnerships and an innovation roadmap that encompasses infrastructure and applications.
The idea that technology and innovation are at the service of companies' businesses, as well as their customers and users of public services should always be present.
The future of Technological Innovation
The current moment should be seen as a valuable opportunity to persist and continue and accelerate in the digital transition. It is important to maintain a route of evolution and adjust efforts according to objectives.
It is urgent that companies find competent technology partners in the development of new generation applications and infrastructures. Only in this way will it be possible to move forward to become a catalyst for the evolution of our customers.
This is the time to align technology and business to ensure business competitiveness and offer a service of excellence to citizens. It is in this co-creation regime that we design a technological future capable of serving each sector.
Advancing together, in a partnership model, it is the responsibility of technology companies such as Nexllence to transmit methods of action with results.
Through a strong commitment to skills hubs, our know-how and a solid ambition for growth, it is possible to attract talent in areas of great innovation. Then, we have to convert that talent into value and make it reach the entire market, both for companies and for their customers.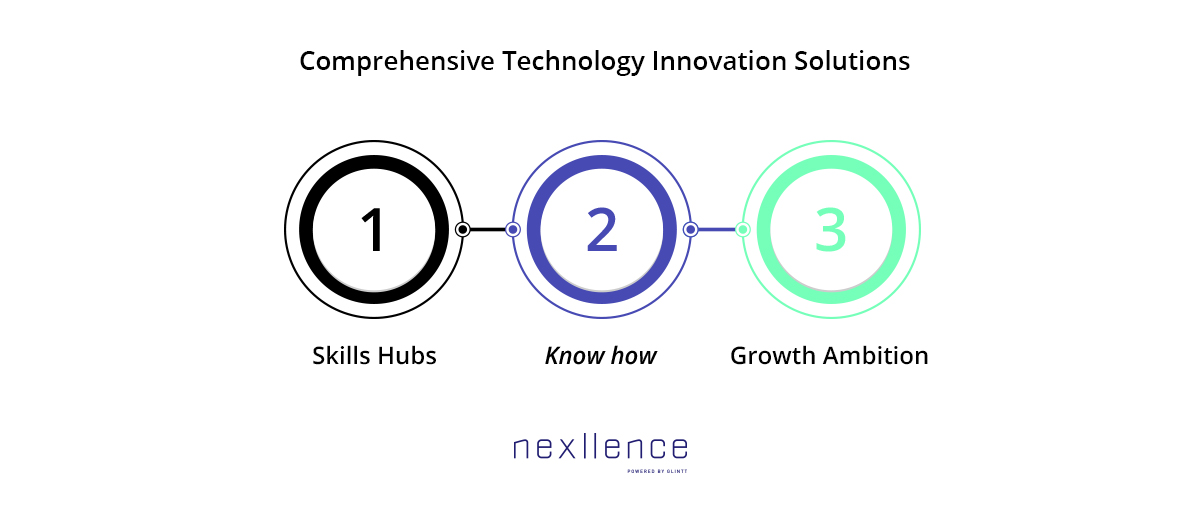 At this stage, it is important to clearly demonstrate the technological capabilities to leverage the digital transformation of the business. The role of technology companies is to present the best solutions to those organizations that have already understood the potential of technology for their strategic plans.
Regardless of the area of activity, or whether management control is public or private, technology is the path to the digital transition.
The Effects of the Pandemic on Organizational Digitization
If the pandemic has taught us anything, it's that nothing is done alone. Looking around us, the differences in organizations and how they have adjusted to this new reality are in sight.

Small businesses that did not yet have a website, launched themselves into the digital world;

Bookstores that did not yet work e-commerce, implemented it;

Restaurants, large and small, have adapted their business models to take-away.
All these changes have come to meet the demands of this new phase that we already know as the famous "new normal". Most likely, the "old normal" will no longer return, at least as we knew it.
The return to our lives so soon will not be done in complete safety. Like the flu outbreaks that occur annually, it is possible that COVID-19 will remain among us
But this is not a pessimistic view, but rather a realistic and confident view that we will be able to adapt and overcome the difficulties by making use of resilience, so characteristic of human nature.
Digital Evolution does not depend on the size of
The development of technological solutions of excellence for all organizations that want to lead the digital future is something independent of its dimensions.
There is the idea that it is large organizations (public and private) that are better equipped to win in these times of accelerated digitization. Perhaps because they are the ones with the greatest human and financial capital to invest.
However, we must not forget that smaller organisations tend to be more agile, open to new ideas and the implementation of change. Of course, many of these entities will be able to convert challenges and adversities into models of high growth.
In any case, the Recovery and Resilience Plan could be an important lever to realize this transformation.
Milton Friedman believed that only a crisis (real or perceived) can be able to generate real change, since it creates the sense of urgency essential to change. The actions taken in response to these moments depend on the current ideas and what we think are the solutions.
Thus, it is our responsibilities to develop and present alternatives to existing solutions. Then we must keep them available until the impossible of the past becomes the inevitable of the present. This is the basis for building a new, and better, normal future.
KNOW MORE ABOUT NEXLLENCE