In 1836, a 27-year-old completed a 5-year sea voyage in the Azores to collect cartographic information. We are talking about Charles Darwin and we know today that the information he gathered on this journey would change our view of evolution.
The future of today's business models will also go through mechanisms of adaptation and evolution, which may have some parallels with Darwin's theories.
Darwin's findings and digital evolution of enterprises
In 1859, Charles Darwin published the first edition of "The Origin of Species through Natural Selection". In this work, he presented us with 2 basic and innovative principles in the face of everything that had been thought so far: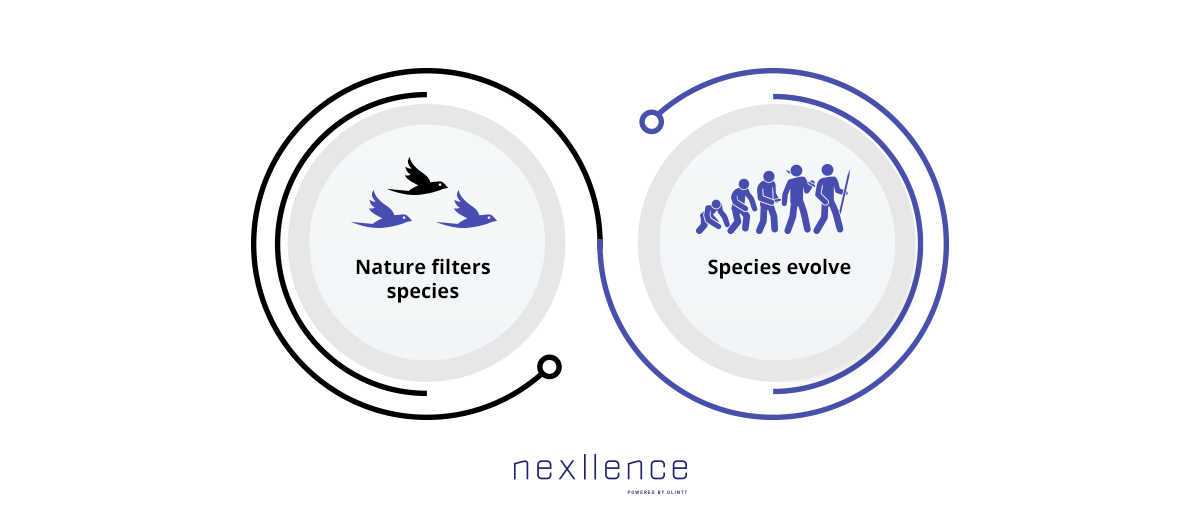 1.

Nature "filtrers" species

In a community with a scarcity of resources, the elements with the best mechanisms to adapt to obtain food, reach reproductive maturity and survive.

This principle, called Natural Selection by Darwin, continues to apply regularly today: the famous expression "natural selection".
2.

Species evolve

Due to random genetic mutations, the species undergo modifications that can make them more adapted to the environment in which they live. These favorable genetic mechanisms are passed on to the following generations.

Here lies the basis of the theory of evolution.

From these two principles was born the best known interpretation of Darwin's theory:
"It is not the strongest or smartest species that survive,

but those that best adapt to change."
Can species theory apply to digital evolution of companies and businesses?
We believe it is possible to apply Darwin's Theory of Species Evolution to the digital transition of today's companies. We share our vision of the characteristics that can give greater resistance to business models.
Thus, adapting to the subtitle of Darwin's publication, we may question:
What are the mechanisms of business models with the most favorable conditions to survive?
The first of these mechanisms is initiative.
Unlike the evolution of species, changes in business models do not originate in random mutations. They must be born at the initiative of organisations and properly adjusted to their needs.
This mechanism should start from the IT department in order to ensure the strategic framework within a technological context.
Objectivity is also very important.
In any company that provides products or services it is essential to maintain objectivity. Your offer must be presented based on 3 pillars: simplicity, convenience and availability.
This allows the business model to be more dynamic. Even if you make changes, customer confidence in supply tends to remain.
Based on the 3 product pillars mentioned above, it is also possible to ensure differentiation. When the customer understands what is presented to him, he/she begins to have a better perception of the value of the offer.
If we add quality and speed of service, we can achieve a lasting and loyalty relationship on the part of customers.
Bad ideas, when properly tested, tend to fail quickly in the best companies. This is because organizations that incorporate innovation processes with agile methodologies can abandon unoptimized ideas too early.
Engaging people of different levels in the organization in bottom-up innovation challenges is a very powerful management practice to improve sound and operationally valid ideas.
Thus, it is possible to reduce the costs of innovation, because less effective ideas are set aside more quickly.
Search FOR PARTNERS to win together
This mechanism involves assuming that isolation generates less success than the search for symbiosis relationships. Cooperation can even be done with competition if it generates value for both!
Now is the time to be open to faster results-oriented partnerships. This collaboration allows you to achieve a lower overall cost of innovation.
ALWAYS listen to the customer
Finally, it is important to remember that even the most ambitious digitization of the business should be human-centric. Companies should know how to listen to the customer and value it as the best resource for the development of new products.
Getting feedback on our services is essential to ensure that your expectations remain within our reach.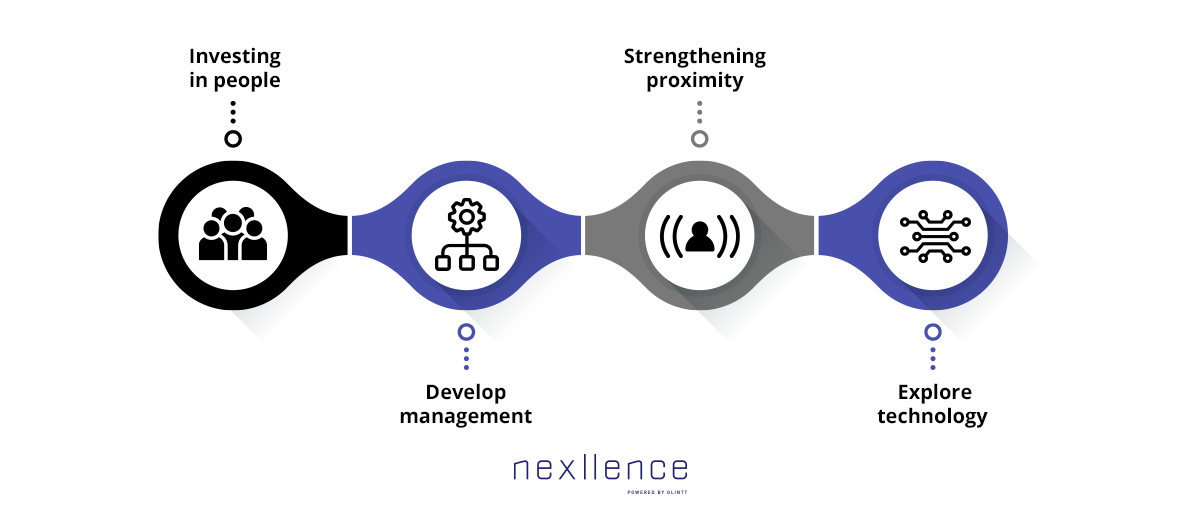 O Futuro dos Modelos de Negócio e a Transição Digital
We are confident that after controlling global disturbances like the ones we are going through today, everything will improve and evolve.
Customers will gradually return to regular consumption, but with different requirements, due to all the limitations they felt in this period and also the influence of other products that, in the meantime, may have experienced.
Remember that consumers themselves are living a time of adaptation and natural evolution.
Knowing customer limitations in the use of your products or services will help identify points of improvement to overcome similar situations.
We've introduced 6 mechanisms that we've identified in many of the organizations we work with. We consider them to be great references not only to survive, but also to grow and encourage the optimization of their processes, towards digital evolution.
There is no evolution without change! In the near future, only organizations that are receptive to transformation will survive. Those who adopt this set of mechanisms will be more likely to be a "surviving species" of a demanding digital selection process.
What about your business? Are you ready for evolution?
At Nexllence, we'd like to know the challenges of your organization's digital evolution. We have a team of over 300 professionals ready to empower the leaders of a digital future.
Talk to us to learn how you can adapt and evolve your business. We are the knowledge that generates future. A Future of Excellence!
I WANT TO EVOLVE MY BUSINESS PROCESSES