When we talk about data processing and storage services, we see that many organizations prefer to leave the data center, a place where the computer systems of a company or organization have traditionally been concentrated, and enter the world of clouds.

Although this decision to change is not mandatory, once taken, it can bring challenges. challenges
There is a wide range of solutions and approaches, which make it difficult to choose – private, public or hybrid clouds (a combination of the first two). Furthermore, it is necessary to consciously follow the transition path, respecting each stage of the process. As a result, an implementation of the cloud will be achieved, adapted to the needs of the organization.
Main Mistakes in Creating a Cloud Strategy
Although each of the phases is explained later in this article, it is important to know that, during a particular stage, the strategy definition, organizations usually make some mistakes. Let's see what some of them are and how they can be worked around.
Involve only the Information Technology area in the strategy and not all others in the Organization
Defining a cloud strategy is not just based on the technology. After all, an organization is made up of several bodies and departments, such as sales and business areas, financial and management control areas, human resources, legal or operations, among others. All of them are important in the existence and evolution of this "living being", which is a company or organization.
The use of clouds can impact these areas, so they must be considered in the process, working in partnership and providing valuable input for the definition of the strategy to be followed. In this way, inclusive and with commitment, everyone can contribute to the success of the strategy.
Not thinking about an "exit" strategy and problem solving
Any strategic project must find ways to overcome unforeseen events with agility. In the construction of a cloud strategy, the importance of this measure applies in many scenarios, mainly related to the need to change a decision.
Imagine that you need to "transport back" some services or operating environments from one cloud to another, for example.
You may not even need this exit strategy, but you must have it.
However, it is not always easy to plan, and it is necessary to analyze several issues, such as data protection, security, code portability or support infrastructures, in order to be as comprehensive as possible. s, como por exemplo proteção de dados, segurança, portabilidade de código ou infraestruturas de suporte, de forma a ser o mais abrangente possível.
Confuse Cloud Strategy with implementation plan
The two concepts are not the same.
The strategy definition predates the implementation plan. It is the decision phase about the role that the cloud will play, taking into account the organization's vision.
The implementation plan is a consequence of the strategy, where what has been defined is put into practice.
To simplify: talk about ways to migrate to clouds, how to select providers (public cloud providers) and how to manage them regarding the implementation plan.
Consider that it is too late to develop a strategy
It is very common for some organizations to believe that it is not worth moving to clouds – either because there are other priorities or because they consider it too late for change. In these cases, the maxim that is better late than never applies.
There are still situations in which the cloud has already been adopted, without having as basis a clear strategy. Even so, it is important to have a deep reflection and to assume that this is an important step and that it must be materialized. In these cases, it may not be necessary to start the process from the beginning, as long as you analyze and document various aspects, namely, achievements, lessons learned or mistakes made.
3 fundamental steps in the Journey to the Cloud
Following a path for the implementation of clouds – cloud journey – is essential for you to obtain the expected results, thus avoiding excessive costs to correct errors.
Know all the steps.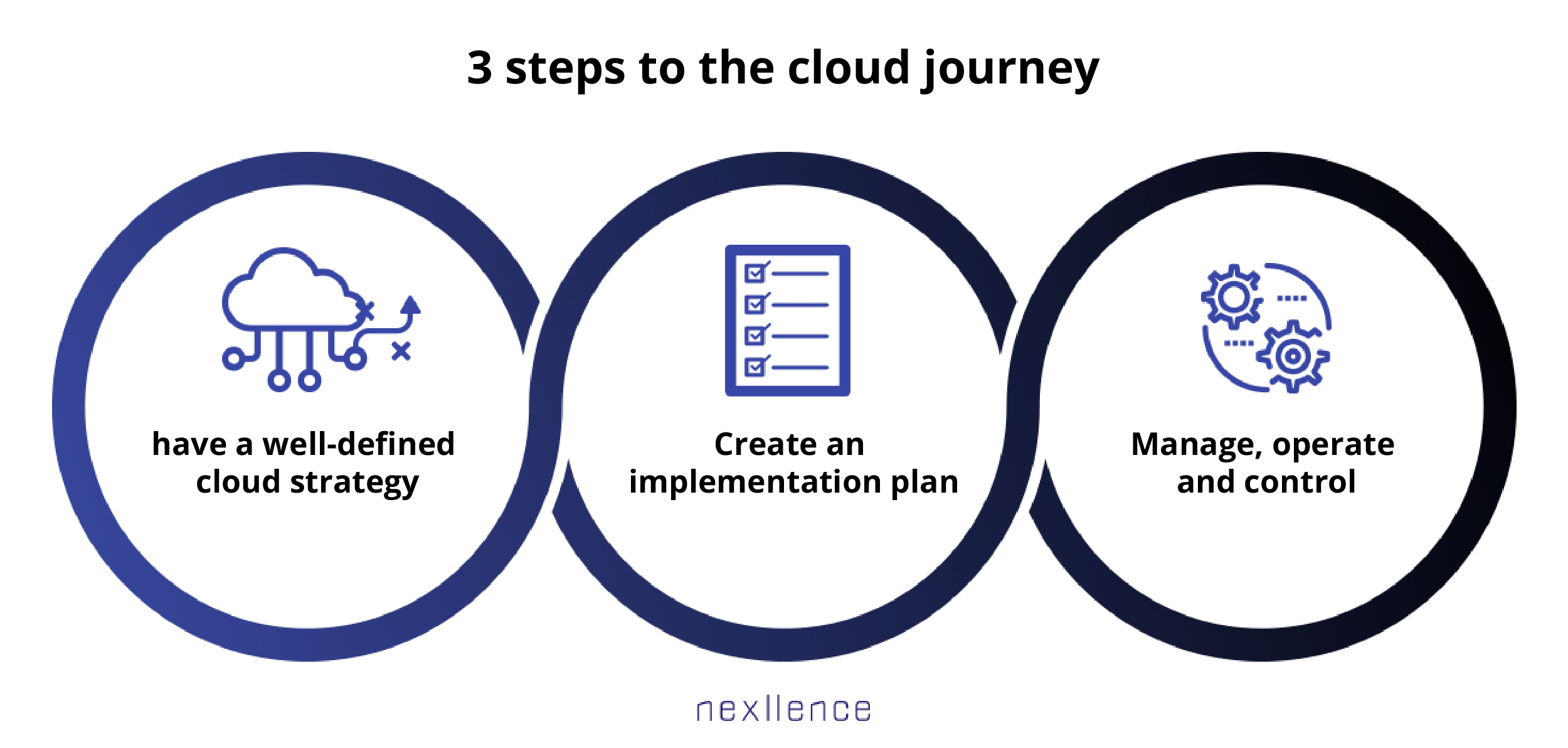 1.
Have a well-defined Cloud Strategy
This should be the starting point of the whole process.
However, sometimes what happens is that you start experimenting and using clouds without this prior definition, compromising the success of using this system.
This is a phase that must start from the organization itself, internally, marked by brainstorming and introspection processes in which questions such as:
Why use the cloud?

What is your role in the organization?

How will it benefit the business?

How will I compromise (or not) my future by adopting cloud services?
Ideally, this strategic definition should be made in a live and iterative document, so that it can be updated whenever necessary.
It can even be concluded that making this change is not satisfactory, but in this case, realizing it is also fundamental, in order not to incur unnecessary costs.
2.
Create an Implementation Plan
As a result of the previous phase, the implementation plan helps to clarify how the migration process will be carried out and what type of cloud and the supplier (s) that makes the most sense.
This transition cannot always be made with the "Lift and Shift" approach, where it is possible to transport applications that support the business to a public cloud without redoing or reconfiguring them.
Therefore, and in addition to this concern with the migration methodology, this planning must take several aspects into account, namely:
Which cloud typologies are best suited to my environments;

Criticality of application environments and interdependencies;

Resources and tools for migration;

Public cloud providers (suppliers) and what services they provide;

Implementation and migration planning;

Data locality (if the data must be located in a specific location or geographic area);

Data security (if the data is safe and protected from potential "hackers" or from internal or external misuse);

Concerns about the security, performance, availability, resilience and robustness of the cloud as a whole;

Possibilidade e facilidade de retorno ou reversão (rollback).
3.
Manage, Operate and Control
This is the phase of managing the multicloud environment in a centralized way using appropriate tools. This ability is important to facilitate interaction and operation, as this is a complex environment.
Thus, it is possible to visualize what is happening in terms of operation in all clouds and to identify the resources available in all management phases.
It is also at this stage that data can be moved between public clouds, from private to public clouds, or vice versa.
It is important to realize that the Journey to the Cloud is not a watertight process, and the phases can be iterative or occur cyclically.
Imagine the following scenario: when the third phase arrives, a problem is identified that indicates that the strategy has not been well defined. In this case, it is possible to go back, redefine what is necessary and promote the necessary changes.
There is an undeniable fact – companies' digital dependence is growing and the use of cloud services is unavoidable.
The business urges the urgency to provide platforms for programmers so that they can develop their work, not only in an isolated and safe way, but also quickly and effectively. Increasingly seeking to give them a controlled autonomy, creating a kind of self-service portal, where resources are available that they can use when they need it, within contained budgets.
In this way, this management capacity is shared between cloud managers, operations and development teams, accelerating workflows and increasing efficiency.
Ensure an effective Multicloud Management according to the needs of your organization
Did you know that, according to Gartner, the use of tools for multicloud management will grow frim 10% in 2020 to 70% in 2025?
This means that, more than ever, it is important that companies are equipped with these resources, counting on partners, such as Nexllence, who provide, implement and support them, facilitating this path.
Do not forget that, with a multicloud environment, the infrastructures will be dispersed among several providers, so all the know how and expertise will be fundamental to guarantee a management that can prove to be complex.
Whatever the stage – strategy definition, implementation plan or management and control – with Nexllence you will always have a trusted partner who will make your journey to the cloud easier and more solid.
KNOW MORE ABOUT DATACENTER AND CLOUD MANAGEMENT