Innovation doesn't have a 100% revenue right, it's experimental. Whenever we turn knowledge into value, or turn ideas into something that can be executed in a sustainable way, we are creating innovation.
A correct management of innovation implies not only asking, but also knowing how to listen.
Innovation can come from a need, a challenge or a restructuring. Only when your goals are well understood is it possible to develop and execute innovation in order to achieve good results.
It is up to innovation management to generate a facilitating environment for the emergence of new ideas and methods in the ecosystems of companies. Only in this way, in the implementation phase, can innovation actually be practical and contribute to improving people's lives.
Forms of Innovation
When companies want to implement different types of innovation, they can do so in several ways:
This is one of the most common forms of innovation in businesses and is to apply small changes and improvements gradually. It is based on an improvement of what already exists, so that it can offer more benefits to the customer.
This form of innovation brings real and complete changes, which break with what already existed. It may be associated with new products or services, and may even give rise to new business or industries.
An innovation is considered disruptive when it breaks with the past. It can result from replacing one old technology with a more advanced one or from transitioning from one process to a more efficient one. Its emergence makes the former obsolete.
When a significant technological advance arises, this can translate into a form of innovation with high impact on the market. Technology-based innovation is generally more efficient and adds value to the user.
Thus, we can organize the different forms of innovation into a matrix of innovation: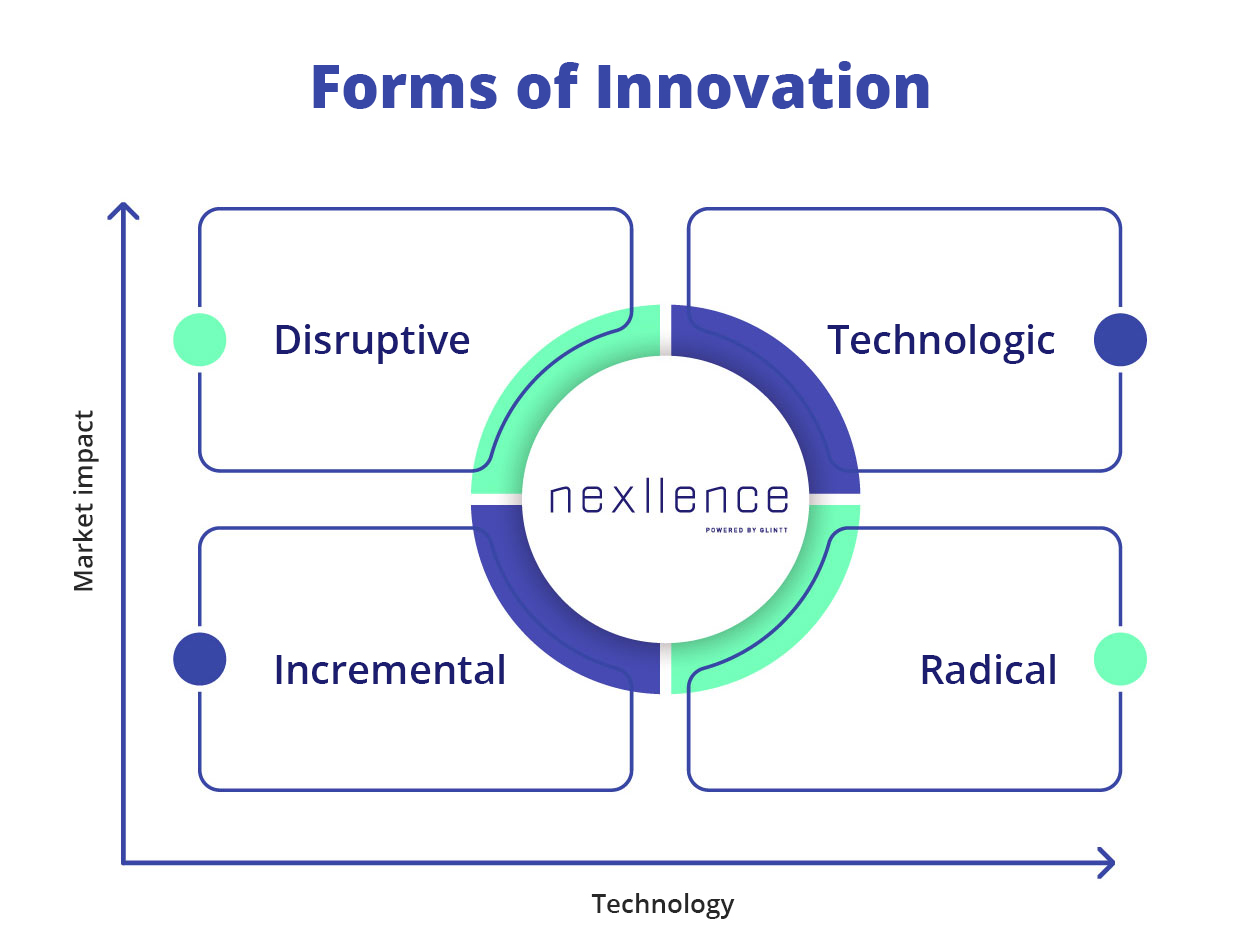 Types of Innovation
There are several contexts within a company in which we can apply innovation. Depending on each framework, the approach should be adjusted according to the type of innovation and the area where it will apply.
1.

Processes

Process innovation seeks to increase efficiency and, consequently, the productivity of the company. A common purpose for most organizations is to achieve increased production and reduced costs.

When innovation is applied to process optimization, this can represent significant savings in time and resources. At the same time, it is possible to invest more time in improving quality and achieve greater control over processes.
2.

Marketing

Marketing innovation processes should allow understanding and applying the best methodology for each situation.

In the context of communication, one of the overall objectives of innovation is to get the right target to the right one.

Another way to apply innovation to marketing is to use its tools to attract new customers to the company. Addressing marketing strategies in another way may be enough to innovate.
3.

Logistics

When applied to logistics, innovation is related to an increase in efficiency in storage, transportation and distribution.

According to the needs of companies, the main focus of logistics innovation is very variable:
In storage: The goal may be to increase capacity or improve warehouse conditions;

In transport: Innovation can serve to reduce the transport time of goods or to provide new conditions for extending transport to other products;

In distribution: Innovate can allow you to create different ways to reach customers or increase the speed with which goods are delivered.
4.

Technology

In innovation associated with technology, the goal is to use the best digital transformation strategy using technological solutions for the improvement or creation of products or services.

Technology is applied to meet challenges, but care must be taken to strategically associate each technology with each product or service.

Chatbots are a good example of how a technological solution has been applied in optimizing business communication.
5.

Business models

When it innovates through different business models, it is intended to produce value for the end customer. We need to be proactive, rather than reactive, in this kind of innovation and think "out of the box".

This type of innovation may arise at the level of pricing models or by providing new products or services that could attract more consumers.

The subscription model of products and services, for example, was something truly innovative when it came about, offering an alternative to purchase.
6.

Services

When a company wants to generate more value for its customers, it can create a new service or add something differentiating to existing services.

Whenever the new service is looking for and becomes sustainable over time, it can even become the basis for creating new business models. These situations typically have a major impact on organizations and require the combination of various types of innovation.
7.

Products

Product-related innovation can arise in 3 different ways:
By creating a new product;

Through some increase in functionality compared to previously existing ones;

By generating a new consumer need.
In any case, in the process of being successful in this type of innovation, it always requires that some kind of value be created for the consumer. The needs and expectations of customers should be at the basis of this typology of innovation.
You need to adapt to innovate!
There is no point in creating innovation in companies if it is not incorporated into the culture of the organization, in order to involve all stakeholders. If companies do not think and act in this way, they are limiting the ability to evolve the business, at the risk of being overtaken by competition.
The innovation strategy and management must meet the context in which they are included, following the type of business, investment, processes, available time and external environment (economic, legal and social).
Innovation must be within each person. The best results are achieved when the solutions are designed to suit the specific needs of each company.

KNOW MORE ABOUT NEXLLENCE