The theme of organizational security is not always seen by companies with due preponderance, because their cost is difficult to associate with a direct and tangible benefit.
In fact, it is only when problems arise that the relevance of security systems and the return on your investment become evident.
Any solution must follow a philosophy of security by design, thatis, be developed from the beginning with a methodology that allows it to guarantee at least basic principles ofsecurity.
Only in this way is it possible to have the cornerstones that allow us to avoid unnecessary costs and risks.
As a general rule, traditional business culture involves creating a new service or solution, investing in everything that is deemed necessary to put this solution on the market, but relegating security factors to a secondary plan.
At a later stage, when these problems arise, security is seen as an unexpected cost and then attempts to correct faults or gaps now found.
In this article, we intend to deepen the main pillars of security in organizations, as well as highlight their importance for the success of all businesses.
3 Main Pillars of Organizational Security
In any organization, security is beyond confidentiality. If the most important data is unavailable or corrupted, it cannot be considered to be effectively secure.
Thus, we can list 3 pillars of security in organizations: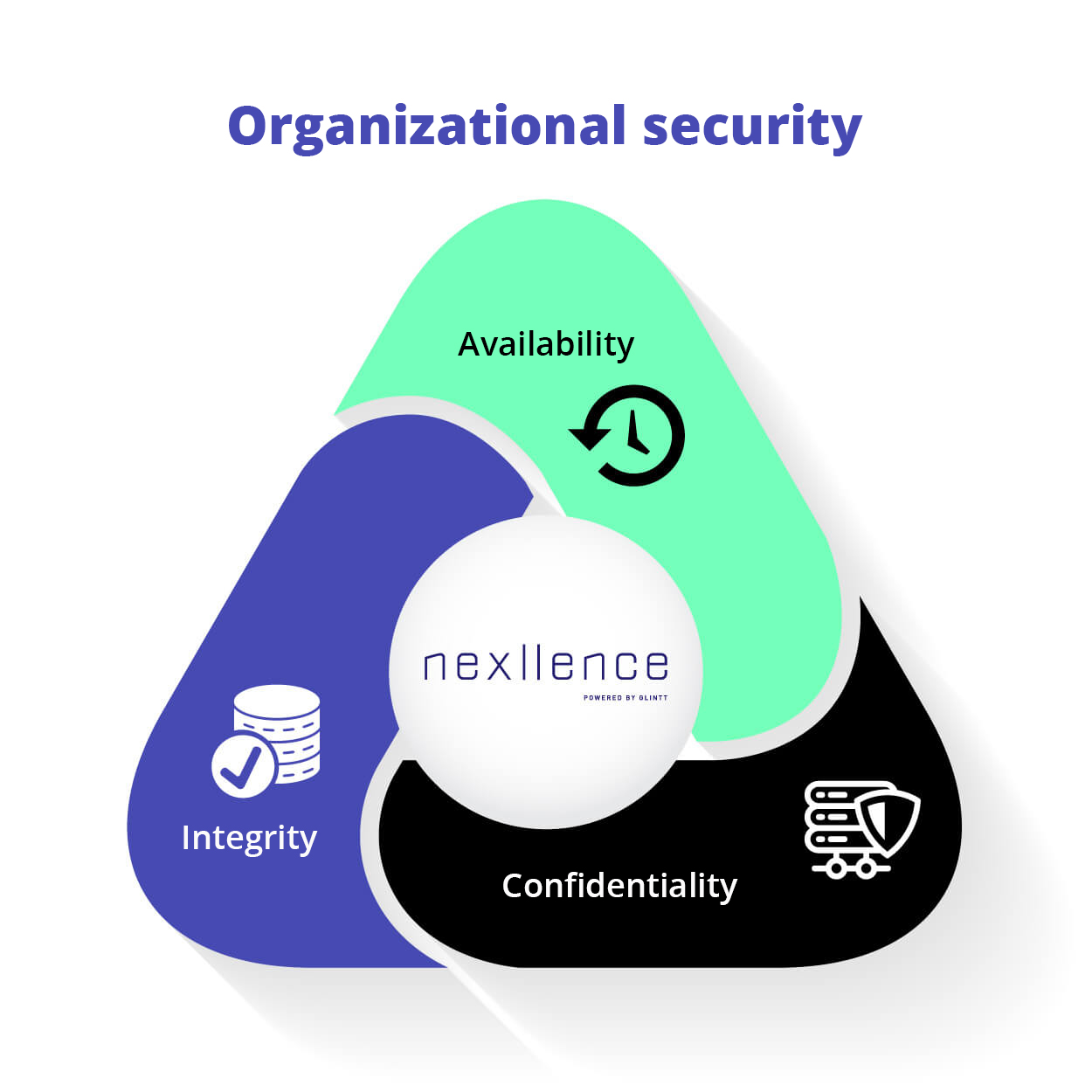 Availability – Data must be available whenever they need to be consulted

Confidentiality– Only those who are authorized to do so should access them;
Integrity – Data must be intact, without damage, loss or alteration.
Only when these 3 dimensions are guaranteed can we assume that the minimum security conditions are guaranteed in an organization.
Security by design – Why is it essential?
Even ensuring these 3 basic pillars of safety, when a company launches any new product or solution there are always associated risks.
Security should be at the top of the priorities when planning to develop something new, but usually that doesn't happen.
Most organizations are unaware of the potential costs of a serious organizational security failure. Obviously, if it is more costly to prevent or mitigate the risk than to live with it, you never invest in security.
Creating secured by design solutions means that security must be incorporated into the design and development phases to avoid further spending in the future.
Later patching security flaws is never the best approach. It may even involve redoing the entire project, with the high costs increased there from.

Benefits of a Good Security System
Any organization has a lot to gain from implementing a rigorous security system.
Some of the advantages are: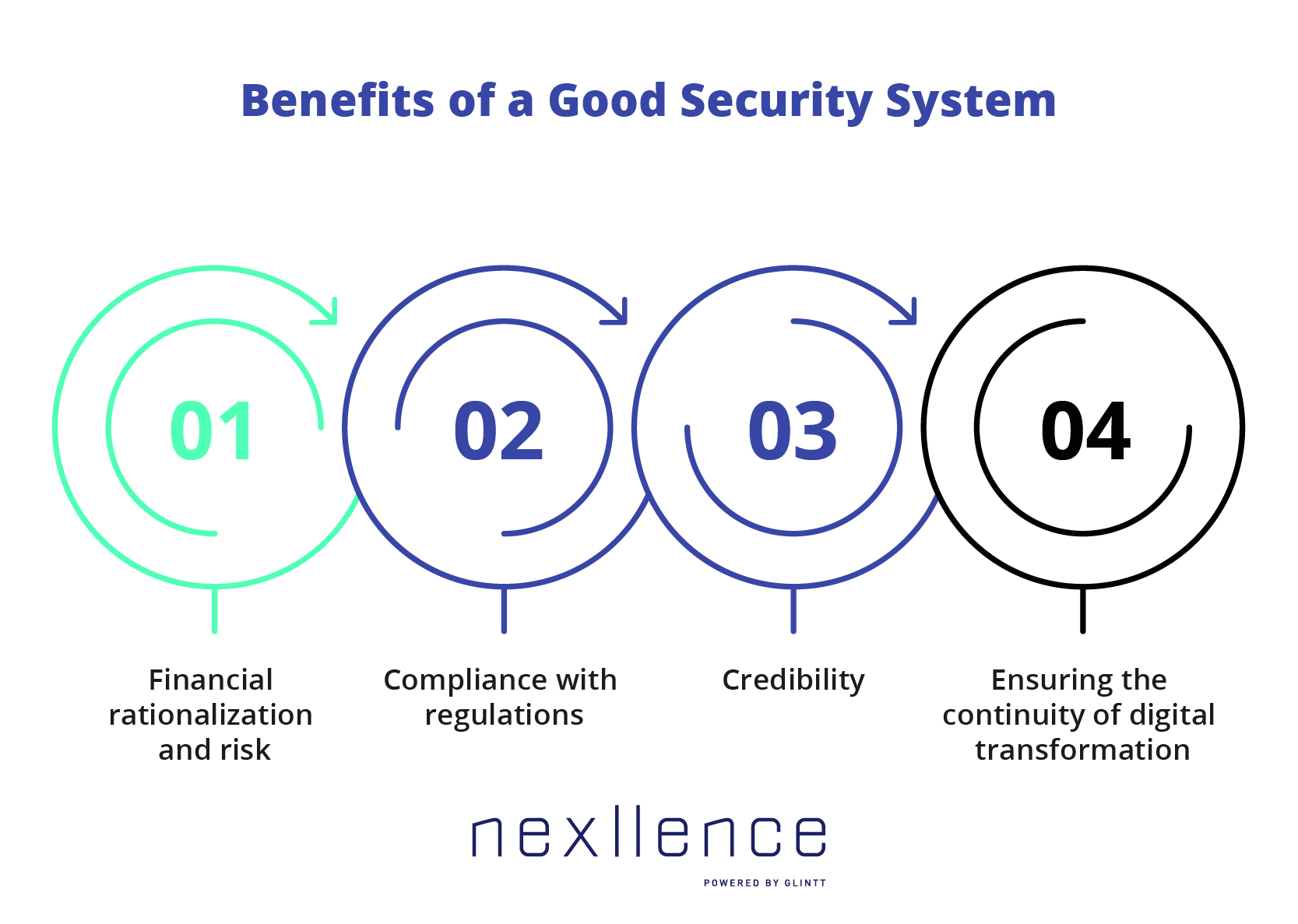 1.

Financial rationalisation and risk reduction

Maintaining a good security system minimizes business risks, operational risks and institutional risks (associated with the institution's image and reputation). In essence, unnecessary spending is foreseen in the future.
2.
Compliance with regulations
Although Portugal is still relatively safe in cybersecurity, international regulations are the same for all countries. Organizations must comply with security rules in order to operate within legality.
3.
Credibility
The safer an organization is, the lower the risks it takes (measurable and immeasurable) and the greater its credibility. More credible companies enjoy a better reputation, both inside and outside the institution and this translates, almost always, into gains.

4.
Ensure the continuity of digital transformation
When an organization doesn't care about ensuring its cybersecurity, all its digital media are at risk. It's as if you give up having doors: your data is somehow exposed to those who want to access it.
What can happen if I don´t invest in a Security System?
Travelex: the fall of a giant…
In late 2019, British foreign exchange company Travelex was the target of a cyberattack. A ransomware group demanded a $6 million ransom for not disclosing the database containing sensitive customer data.
In the absence of a proper security system to try to stop this attack, the company was forced to shut down its systems for several days, causing incalculable damage to various levels.
With more than 1,200 branches spread across 30 countries worldwide, Travelex has not yet fully recovered. He ended up paying the hackers more than $2 million in April 2020 to try to reset the normality of their operation.
Unfortunately, as this example there are others.
Prevention begins now!
The entry point for the most serious security bouts in organizations is generally minimal and human-based.
Thus, it is up to security teams to develop systems to help users and secure organizations wherever they are.
Discover Nexllence solutions and keep your business safe!
KNOW MORE ABOUT CYBERSECURITY