The complexity of IT is growing more and more, driven by the digital age and the adoption of new technologies.
This scenario has brought (and will continue to bring) transformations for companies, their business models and the offers they offer.
Today, new solutions are created that are developed by different areas of the organization, which are not always completely aligned with the strategic plans of IT.
In addition, from the point of view of systems architecture, companies have gone from a central, unique and monolithic model to the addition of layers in the architecture, increasing complexity, and the difficulty of managing the entire ecosystem.
For example, according to the digital performance management company Dynatrace, making a simple transaction on the web crosses on average 35 different systems or technology components, compared to the old ones 22.
The truth is that this IT complexity can bring challenges to organizations, among which make it harder to find and solve problems quickly or increase points of failure.
When internal processes become confusing and difficult, costs for companies can even increase. And when some projects encounter great difficulties they end up delaying or even canceling their launch.
That is why it is very important to find ways to simplify this complexity.
4 fundamental factors to face IT Challenges
When internal processes become confusing and difficult, costs for companies can even increase. And when some projects encounter great difficulties they end up delaying or even canceling their launch.
In general, the way to be able to respond adequately and efficiently to the complexity of IT is to combine skills, tools and strategies with the help of specialized partners.
Let's look at some factors on which to base them to help in the simplification process.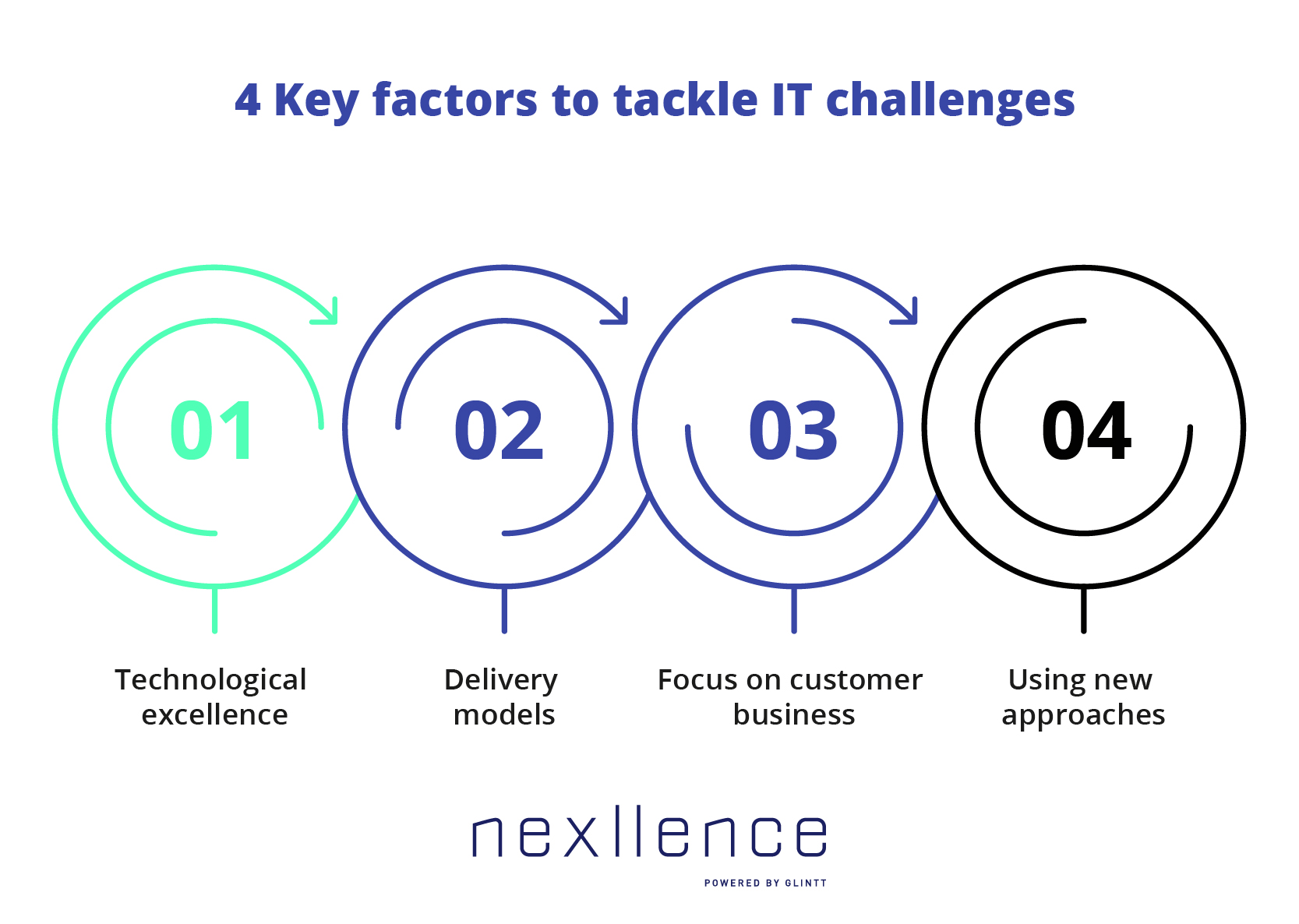 1.

Technological excellence
The advancement of technology requires companies to find partnerships that allow them to be on a level of adequate technological preparation to face complexity, serving as integrators evolved in this era.
The best way to achieve this is by focusing on the excellence of the projects they deliver, thanks to the differentiation in relation to the skills and tools they have and the specialized human resources they rely on.
2.

Delivery models
We have already seen that during the digital transformation, the challenges for companies can increase.
Thus, it is important that the way projects are approached, which consists of delivery models, promote the resolution of these problems as immediately as possible.
In this way, working on an Agile methodology is a good idea, given that the work process is phased and challenges are faced as they appear.
With the Output Driven delivery model, for example, where service providers are paid for what they deliver, the risk is shared, so solving the challenges is in the interests of both parties (companies and suppliers).
3. Focus on the client´s business
It is important to have teams that are dedicated to customers and, in particular, to their businesses.
In general, they focus on getting to know the problems that exist, understanding the business model and the way they work, and then understanding the best way to solve the challenges that are emerging, contributing to a successful resolution strategy .
4. Use of new approaches
Using new solutions, new technologies or new approach methodologies, different from traditional systems, prepares companies for the emerging changes of the digital age.
Basically, it is important to reinvent the way solutions are delivered to end users, making the process more intuitive, easier, with a more natural language and, consequently, less complex.
This effect is achieved through mechanisms of Artificial Intelligence, for example.
Need a solution to simplify IT complexity in your organization?
All the factors that we covered in this article in order to manage the complexity of today's world, in the IT area, are considered and implemented by Nexllence, through innovative approaches and a focus on service excellence.
Through the tools of some partners, such as ThoughtSpot, which constitutes a new approach in the area of ​​advanced analytics related to research and data analysis.
In general, it is a solution that delivers knowledge to organizations with a different methodology from the traditional one, in which repositories were built with pre-analyzed information, made available to users via reports or other tools.
With ThoughtSpot, information is transmitted raw, and the product itself, through Artificial Intelligence mechanisms, analyzes it and delivers knowledge to users.
Like this example, there are others that allow you to manage complexity in ways that benefit your business. In fact, it is important to add the concern with this management to the DNA of companies, so that they are able to equip themselves with the right tools to deal with the challenges of this era that are appearing.
If you need help to simplify what is complicated in your business, count on Nexllence´s capacity, expertise and means.
CONTACT US