Data is considered a precious asset, fundamental to any area of business. Nexllence recognizes its intrinsic value and has developed several projects to enhance the profitability of data in any organization.

IDC suggests that data should be seen as water, something essential to business life. Aware of this importance, Nexllence proposes a generic data monetization model that you can apply to the specifics of your organization.
In this article, we present you with a challenge based on a generic data monetization model that you can adapt to your company's specific needs.
Nexllence Data Monetization Model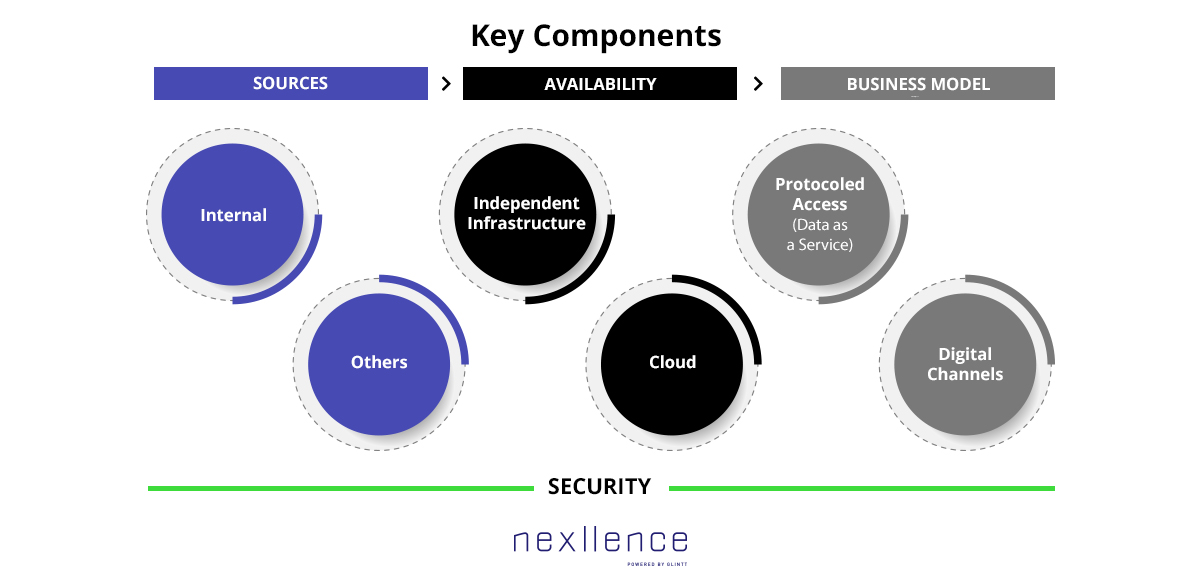 There are 4 key components to our data monetization model:
Sources;
How to make these sources available;
Business model to be implemented;
Security, present throughout this model.
Sources
Sources are what we have to optimize, they are the origin of all information for data monetization. This step is crucial and involves 3 pillars: Extraction, GDPR Compliance and Preparation of information.
After extracting the information, we must ensure compliance with data protection regulations at all times, ensuring that sensitive information is safeguarded.
Finally, the data has to be prepared, which may require some aggregation to optimize its exploitation. If you use a protocoled access (data as a service) you should use APIs to interact with the data to ensure that everything complies with security standards.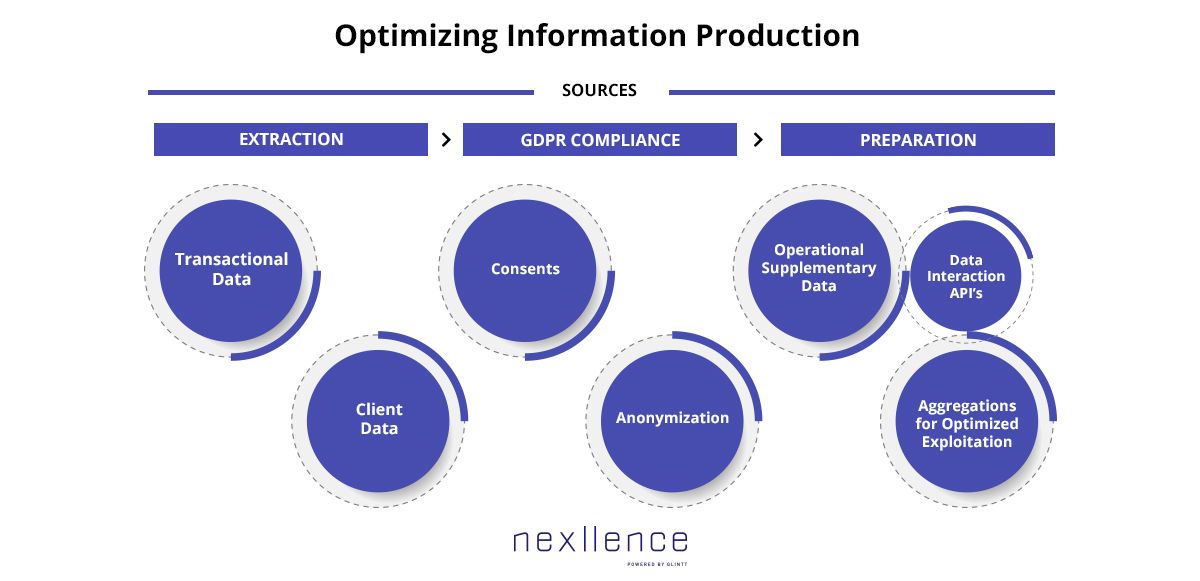 Ways to Make Sources Available
In your monetization model you can make these data sources available in two ways: through independent infrastructures or through the cloud. It is the latter that we clearly recommend. The growing supply of Modern Data Warehouse in the cloud makes it possible to scale the provision of information faster and more securely. (Gartner MQ para Cloud Database Management Systems 2020/11).
Business Model
It is in the mechanics of your business model that the secret to monetizing the data lies. Here, there are several options available:
PEnabling free access to a small set of information is a good way to advertise the asset and invite future customers to the paid model..
When we have a self-service portal approach you can choose between:
Having information made available to different profile types, with different search ranges;

Providing a query model with limited extraction;

Giving access to data in a more tactical way, keeping it available for information gathering or data discovery.
In this model, there may be a regular production of content (on a weekly basis, for example) or else allow direct access, via API, so that your customers can interact with your information on a more recurrent basis.
We propose 3 billing models that we see as the most usual:
You can offer a time subscription, where you make a contract with your customer to provide them access to the information for a certain period of time;
You can charge per interaction, which allows you to set a transaction limit for the client after which he will have to pay an additional amount or have the service barred;
You can also limit the amount of information accessible to your clients for extraction.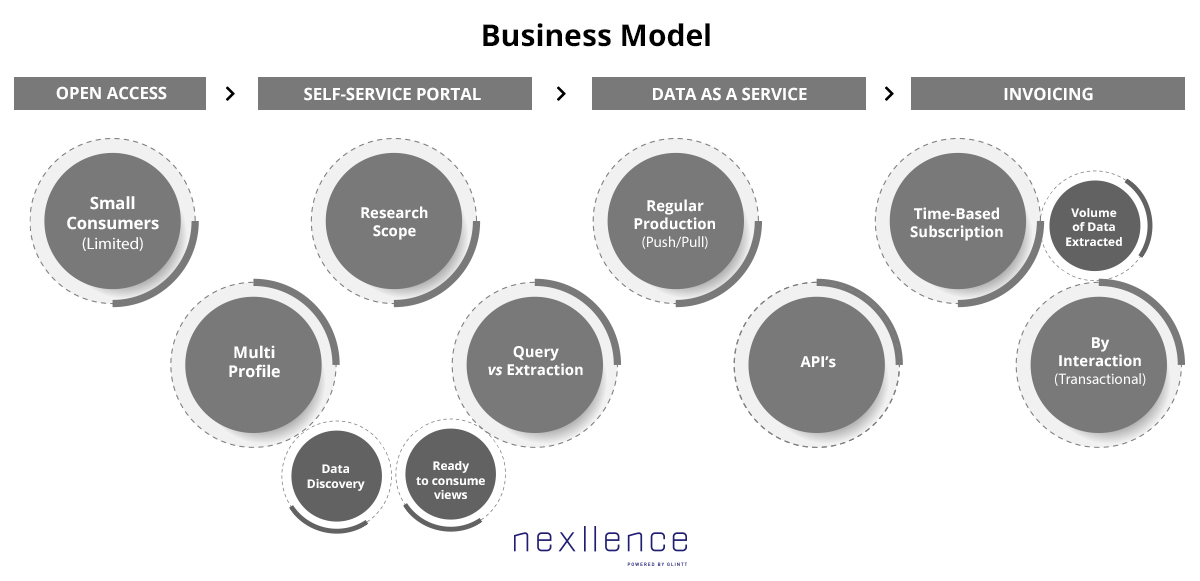 Security
Regardless of the channel, security is something fundamental to implement throughout this process.
In a self-service access, for example, we always suggest a

multi-factor

authentication. This is the only way to ensure greater control of intrusion.
For a data as a service model our recommendation is to implement digital certificates at the client. This makes the interaction much more secure.
In the 2 models mentioned above an application firewall should be installed that will provide an extra layer of protection.
In the operational model itself, it must be ensured that regular auditing processes are implemented to enable user tracking.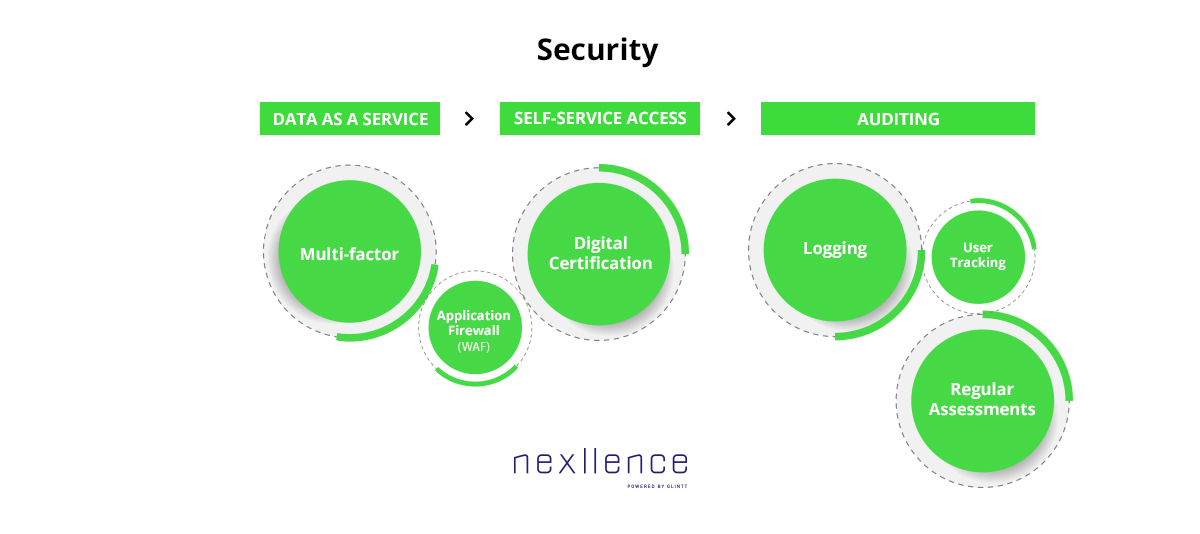 Before Profitability there must be Investment
We have thus explored all the main options that should be taken into account when building your monetization and data monetization model.
It is important to keep in mind that you should opt for a dynamic model, one that allows you to think big, but always start as big as you can afford.
In the specific case of your organization, what information has the potential to become your most valuable asset? What is the ideal business model to leverage this asset?
To help in these discoveries you can count on Nexllence's know-how. We have a wide offer of services and solutions in the technological area, from cybersecurity to artificial intelligence. We leverage solutions for organizations that will lead the digital future.
KNOW MORE ABOUT OUR ANALYTICS SERVICES