2020 was chaotic for most information technology (IT) organizations, as with employees working from home, a huge number of personal networks and devices needed to be identified, related to each other, monitored and protected.

CWith organizations' need to evolve, implementations have to be agile in order to keep up with frequent and continuous changes. This need makes governance and control essential.
Contrary to what you might think, it is impossible to implement quick and secure changes without a certain level of control. In fact, it's a balance that DevOps professionals must strike and that involves a deep understanding of all elements of the IT environment and how they relate.
This is one of the reasons that make the Configuration Management Database (CMDB)so relevant.
If the company doesn't have a CMDB that can give visibility into infrastructure components and configurations, and also about their applications and their relationships (between apps or between apps and infrastructure), the operations team will struggle whenever they want to make a change.
When agile organizations are intended, lack of knowledge slowsdevelopers/operations team because it makes it difficult to execute changes. In addition, the absence of always-up-to-date and reliable infrastructure data causes DevOps teams to take risks each time they provide a software release.
But… What is a CMDB?
The term CMDB stands for Configuration Management Database and is generally referred to as the "heart" of any Information Technology Service Management (ITSM) system -which demonstrates its importance.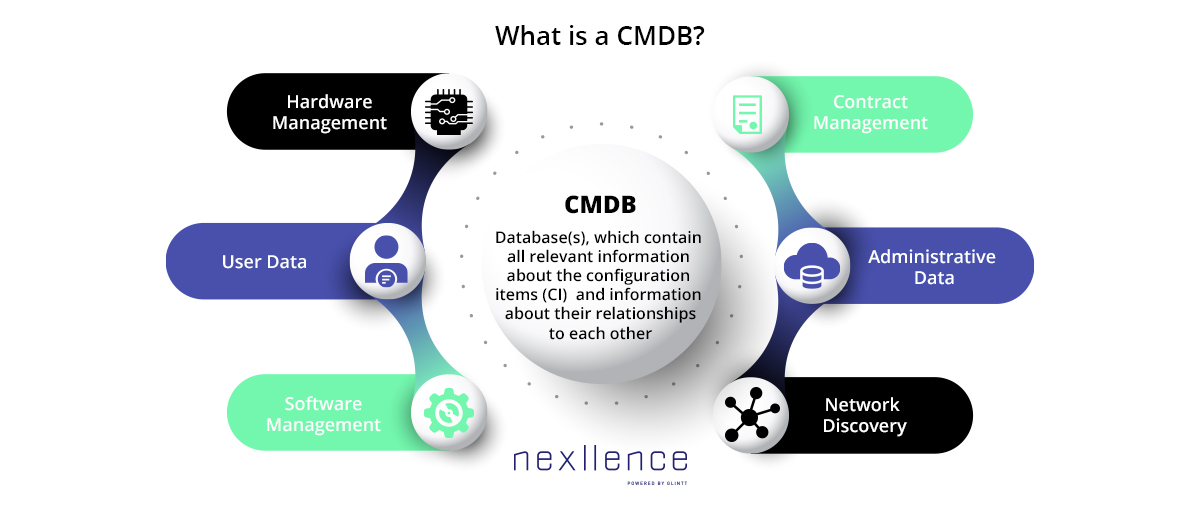 It is a repository that stores information about the components that integrate your IT infrastructure. These components are often called Configuration Items (CI) and according to the Information Technology Infrastructure Library (ITIL) a CI is any asset that needs to be managed for the purpose of providing IT services.
Why is a CMDB so relevant and necessary to organizations?
Whether it's called a CMDB or not, all organizations have a "list" of the company's assets. This listing includes hardware,software licenses, documentation, and sometimes even employees themselves.
Depending on your organization, your Configuration Management Database can correctly go to the point where it is an authentic map of everything IT is. However, what almost always happens is that this data is not properly updated over time.
The control of the equipment is done in a "file" with the list of equipment and software present on the day they were first installed. That is, the data is completely out of date.
The key to security is transparency!
Having data is a good start, but it can be useless if we don't know how correct and up-to-date they are.
For this reason, a CMDB should be used in conjunction with other tools (such as ITSM or a discovery tool). This allows you to have an overview of your equipment transparently, allowing you to automatically manage and monitor updates to your configuration data.
Benefits of having a CMDB in your organization

1.
More comprehensive view
CMDB provides a view of the data in a more organized way, allowing it to be examined from a variety of perspectives. In this way, all changes (planned or unplanned) become less risky and easier to achieve, as it is possible to predict their impact.

2.
Accuracy and speed
Through CMDB it is possible to provide the work teams, or any auditor, with a faster and more accurate view of the company's assets. It's easier to know where they are and what their relationships are with other organizational assets.
3.
Cost control
A CMDB, as long as it is properly updated, allows a clear knowledge of what the organization has at every moment. Thus, waste of resources is controlled, preventing the company from buying more of what it already has or is not using.
4.
Data protection
CMDB allows you to identify outdated and vulnerable equipment. Thus, it helps to meet compliance requirements such asGDPR (General Data ProtectionRegulation), HIPAA (HealthInsurancePortability and Accountability Act), andother standards of security and privacy of personal data.
How to keep a CMDB up to date?
Modern applications are built on containers and microservices that appear and disappear frequently. This makes it almost impossible for it staff to manually update the CMDB.
The solution involves automation. This is the only viable way to keep configuration data up-to-date to support accurate, real-time decision-making.
Through automation, you can provide an up-to-date equipment list with state and configuration data ready to support decision makers.
Today's CMDB is critical to incident management and should be supported by a change planning practice.
Technology as a factor of change
We live in a time when everything has to be agile and known for changes to happen quickly, without underpaling the safety and quality of services. The CMDB is a map of infrastructure and applications that allows for faster and more fearless change.
"Nothing in life is to be feared, It is only to be understood" – Marie Curie
Contact us and we will explain our approach safely and agilely.
CONTACT US