The importance of cybersecurity in companies and institutions is visibly growing. Read on and discover the main trends in this area for the future.
The increasing technological development that we are witnessing today has several advantages. However, it also entails some consequences, such as cyber-attacks.
In the last 3 years, 20% of organizations have been the target of cyberattacks on Internet of Things (IoT) devices. This trend is likely to amplify if we consider that the current number of IoT devices will grow by 9% by 2025.
As cyberattacks increase, organizations are starting to focus on improving the cybersecurity of their devices. But will past and present practices remain relevant in the future? Or will the advance of new technologies also drive the implementation of new forms of cybersecurity?
Read on and find out:
What technological advances could jeopardize digital security in the future;
The main cybersecurity trends for the future;
How it can be a competitive differentiator in your company.
What technological advances can we expect in the future of cybersecurity?
According to Forbes and Gartner, these are some of the most emerging future technologies: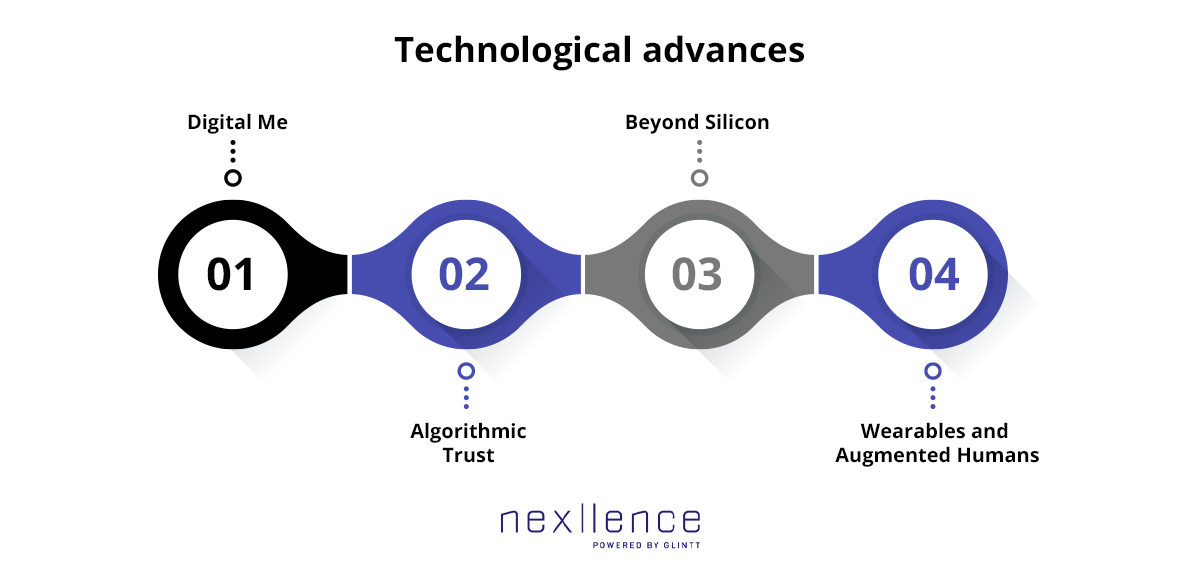 Digital Me
When we talk about Digital Me, we refer to an Artificial Intelligence agent that will be able to digitize the knowledge of any person and even take his or her place in some circumstances. In other words, it is as if each person created his or her own "Avatar", which will be able to take over some simpler or routine tasks.
Algorithmic Trust
We will see a replacement of trust models based on responsible authorities by algorithmic trust models. In these, privacy and data security are assured, as well as the identity of people and things.
Beyond Silicon
The use of silicon is being replaced by more sustainable materials in chip construction. With these new materials, faster and smaller technologies can be achieved.
Wearables and Augmented Humans
Have you ever heard of technology pieces that can be incorporated into clothing, everyday objects or even into the body itself, in the form of a tattoo or implant? They aim to increase our ability to respond to certain situations, allowing us, for example, to hear sounds that we don't hear on a daily basis, or to send information directly to our brain.
With the emergence of increasingly immersive technologies, cybersecurity takes on added importance. Companies have been transforming and making their businesses increasingly digital, using virtual networks and platforms, and storing their data online.
Therefore, the increased availability of data and its easy accessibility led to a greater need for protection, to which all companies must be attentive. Other issues, such as remote working, also raise weaknesses in organizations' security systems and increase their concerns.
These technological advances we have talked about, together with the current panorama, allow us to identify what will be the greatest concerns of cybersecurity in the coming years. And, consequently, identify where it should develop the most. According to Forbes, the ability to avoid and respond to cybersecurity threats is key to success in the next decade.
Learn about the key cybersecurity trends for the future and how you can keep your most sensitive data and information safe.
What are the top 8 cybersecurity trends for the future?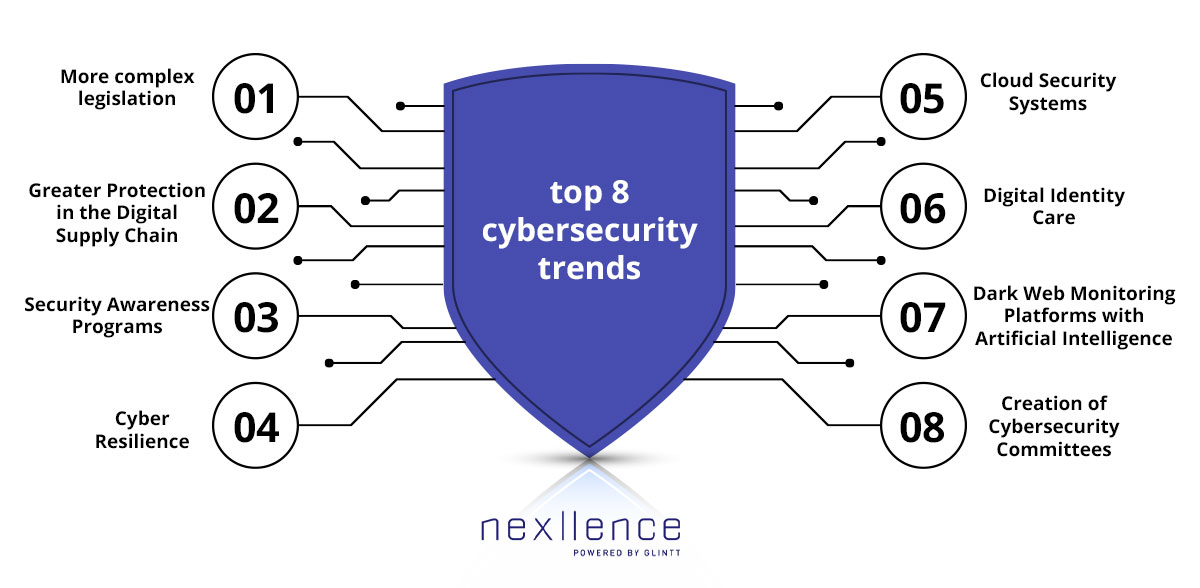 More complex legislation
Like technologies, cyberattacks are becoming more complex. Considering this reality, companies and organizations will start to face more complex legislation and more obligations, with a new focus on digital sovereignty.
Greater Protection in the Digital Supply Chain
In the future, many large companies will see their systems compromised by their Digital Supply Chain, as increased connectivity between companies leads to an increased attack surface.
Large companies and organizations should protect connections to smaller companies to which they may be connected. Why? Because they have fewer cybersecurity resources and are more vulnerable to attacks by cybercriminals.
Blockchain as a Service (BaaS) technology can be a solution by providing a decentralized database for companies. If there is, in fact, a data breach, BaaS technology also helps to minimize the damage, as it can track who was the last person to have access to certain information.
Security Awareness Programs
The human factor continues to be the one that most often puts information at risk when we talk about cybersecurity. We can say that it is "the weakest link" in an organization's security chain.
This is because, within companies, it is often the employees themselves who put their digital security at risk. Sharing passwords, using computers on external networks, and opening emails or programs from unknown sources are some of the most common behaviours.
It will be increasingly important to focus on security awareness training. This preventive education will help to reduce as much as possible the risky behaviours that cause vulnerabilities in cyberspace.
Cyber Resilience
Today, and in the future, companies must be prepared to continue their operations even when faced with a less favourable context. This early preparation is called cyber resilience, or cybernetic resilience.
Cyber resilience gives constant priority to cybersecurity in organizations, rather than only when there is some data leakage.
Cloud Security Systems
Cloud security systems offer companies a more centralized platform for monitoring and managing security operations and will be a major cybersecurity trend in the future.
Besides being easier to install and capable of providing companies with real-time information on their security operations, they can identify threats more quickly.
Digital Identity Care
The volume of data hosted in clouds has been growing. Therefore, it is necessary to create more sophisticated access control systems that identify suspicious behaviour. The goal is to ensure that only authorized people enter the network and access the data.
Dark Web Monitoring Platforms with Artificial Intelligence
The dark web can contain countless threats for companies. In order to prevent the occurrence of any attack artificial intelligence (A.I.) platforms have been developed that rely on natural language processing and machine learning to monitor the dark web and detect any sign of information or data compromise.
With the information gathered through these platforms, it is possible to determine whether the company is at risk, the type of data that has been compromised, and what you can do to fix the problem.
Creation of Cybersecurity Committees
With organizations becoming increasingly alert to the topic of cybersecurity, there is a trend toward the creation of teams and committees dedicated to this topic.
The goal is to form a task force that works to raise employee awareness of existing risks. At the same time, it must be able to identify and resolve possible weaknesses or, in more extreme cases, implement contingency plans that protect the organization's data.
How can cybersecurity be a competitive factor for companies?
Ensuring that a company's data and cyberspace are secure is becoming an increasingly pressing concern. Customers expect their data to be 100% secure when they decide to use some service or product from some external entity.
To be able to guarantee this security to your customers, it is important that you adopt cybersecurity habits as soon as possible, even without identified risks. By adopting these practices, you will protect your business and give a sign of trust to your customers, showing them that the security of their data is a concern to you.
Find out how Nexllence can help make your data more secure, while conveying an image of reliability to your customers.