Today, our habits are undergoing a huge change in adaptation to a new reality and technology has become a constant in our lives. Remote work and online teaching are only a small portion of this transformative process. In the case of public administration (PA), there are specific challenges to consider.
"The Government's strategy to continue the modernization of public administration combines technology, people and management." ." Alexandra Leitão,Minister for State Modernization and Public Administration State
On the one hand, a substantial part of digital processes are responding to the challenges of first interaction with citizens and businesses. However, it is still necessary to modernise some services in order to develop management and control processes to ensure the desirable efficiency and processing of all processes in a digital way.
What is the role of public administration in the challenges of modern times?
Public Administration assumes a fundamental importance in how to address the challenges of today.
In order to be able to give them the best response, both governments and society itself need to be based on a common vision and to coordinate measures, policies and strategies that are coherent and effective.
In this sense, the XXII Portuguese government approved The Strategy for Innovation and Modernization of the State and Public Administration 2020-2023.This strategy includes several objectives associated with 4 guiding axes:
The goal is clear: to achieve the desired cultural transition it is imperative to train and empower workers for digital technology and involve them in this process of change.
Investment in administrative simplification is, in essence, significant savings in the medium/long term. Simplifying administrative management means optimizing and streamlining processes and resources.
By simplifying access and decentralisation, it is easier to encourage citizen participation. Strengthening public services at the regional level makes them closer and available to people.
Betting on new technologies enables an improvement in data and information management and a greater degree of transparency and security. Services are now integrated, which also facilitates their interoperability.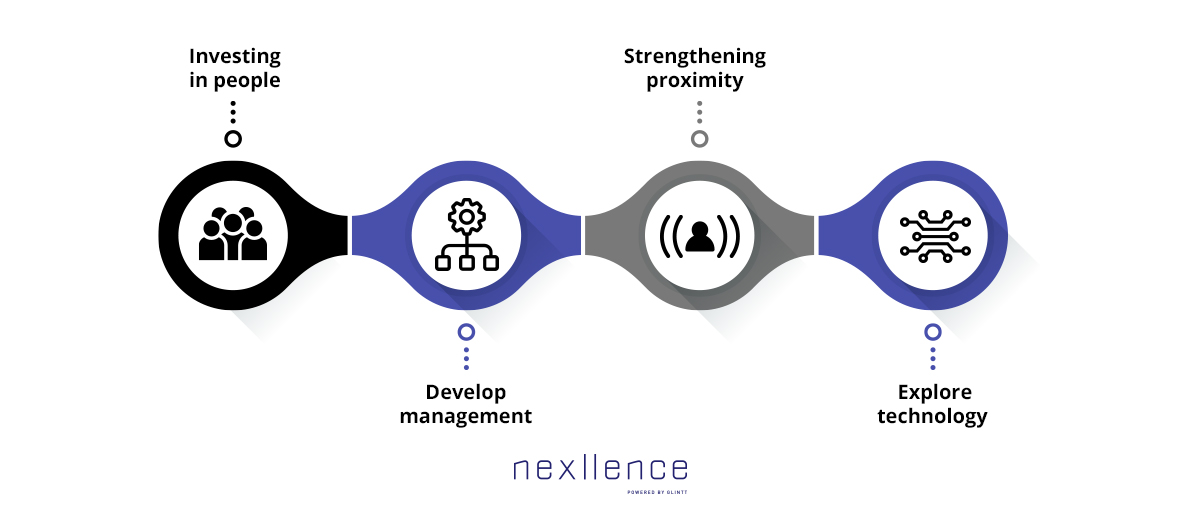 At Nexllence, we know the importance of creating and managing technological solutions that meet the needs they want to meet. Transforming public services to make them simpler simpler is one of the challenges we are proud to have helped overcome.
Government's Key Measures to Exploit Technology
The guiding axis defined by the Government on the exploitation of technology, seeks to follow 4 main vectors of action:
Implement Cloud Services in Public Administration, with a regular evaluation of the results achieved;
Defines common standards, reference architectures and technologies supporting their adoption in public administration in a transversal way;
Strengthen cybersecurity levels to ensure that digital processes run securely while safeguarding privacy and information security;
Promote and support the use of the Interoperability Platform digital Mobile Key,technological solutions developed with the participation of Nexllence.

However, there is still a need to improve the channels of interaction and adapt them to a new reality, increasingly citizen-centered. In this respect, personalization is the key to making public administration more inclusive, respecting the digital maturity of each individual.
Only by knowing the reality of each one can we address the services in a truly appropriate way. This point becomes crucial in the structuring of public services and consequent channeling of investments.
Digital Portugal

: Exploring the Modernization of Technology
One of the measures for the digital transformation of public services will aim to dematerialise the administrative services to which citizens use more frequently. The aim is to apply the digital principle by defaultand thus provide alternativedigitalmeans to simplify access to public services.
The changes we are seeing are transversal to all sectors. Today we are faced with a unique opportunity to consolidate what has been done abruptly in the digital transition.
It is time to create something sustainable that capitalizes on the advantages of change, continuing the digitization of existing models, and supporting the necessary growth of the economy and the development of the country.
KNOW NEXLLENCE SOLUTIONS