Multi-cloud environments are a widely used strategy these days that offers businesses greater flexibility. However, despite being a well-known solution, there are still several questions about its advantages, disadvantages, and use.
Implementing a multi-cloud environment involves considering several points and making important decisions to ensure that it is the best solution for each need or service.
Are multi-cloud environments a promising venture? Should you invest in this solution for your company?
In this article, we will talk about:
The differences between multi-cloud and hybrid environments;

The advantages and disadvantages of using multi-cloud environments;

The prospects for the future, regarding the use of this type of environment.
Multi-cloud versus hybrid environments: spot the difference
When we talk about hybrid environments, we mean a combination of public and private cloud services. In this case, companies keep some of their most critical data in a private environment to ensure its security. At the same time, they work with public clouds in order to guarantee greater flexibility, cost savings, and better maintenance, among other advantages.
Multi-cloud environments combine, as the name implies, private, public and hybrid clouds. They enable organisations to have multiple private and public cloud environments, or even multiple hybrid cloud environments, connected or not connected to each other.
They are suitable for companies that handle a large amount of data and therefore need large storage spaces. They can thus decide whether to use the public or private cloud, depending on their needs.
Neither solution is better than the other. The choice between a hybrid or multi-cloud environment will depend on the needs of the company and the advantages that each one can offer.
What are the advantages and disadvantages of a multi-cloud environment?
When we evaluate this type of enterprise solutions, the most important point is not the solution itself, but its adaptation to the company's reality. In other words, more than the most appropriate tools, the concern is to combine them into an effective response to existing needs.
However, there are several advantages and disadvantages related to multi-cloud environments which businesses should consider when making their choice.

8 advantages of using a multi-cloud environment
The use of a multi-cloud environment brings several advantages to companies in terms of organisation and management of work and data. The main qualities of the multi-cloud environment are: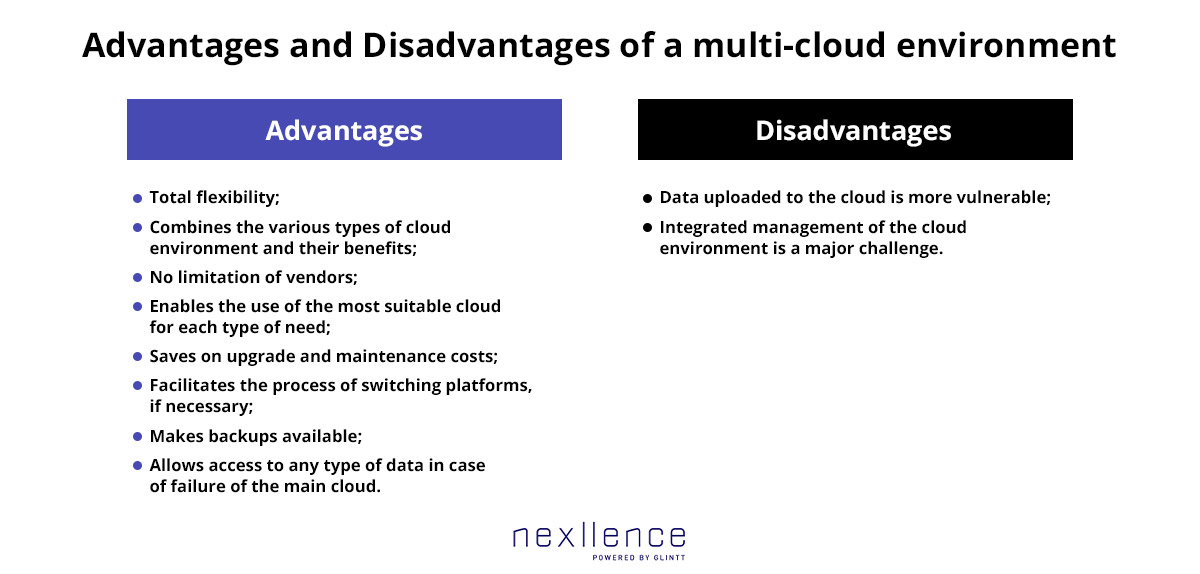 Companies that opt for this solution will be able to optimise their work, streamline processes and offer better services, at a faster and more efficient pace. In addition, the combination of various types of environments and vendors allows them to comply with the data legislation of each region with greater ease.
Risks and disadvantages of this type of environment
Despite the many advantages of using multi-cloud environments, there are some risks that companies must consider when choosing them:
Data uploaded to the cloud is more vulnerable;
Integrated management of the cloud environment is a major challenge.
Therefore, there should be user awareness of the importance of cybersecurity right from the start of implementation.
The existence of a platform that ensures the management of all public and private clouds is also important. This platform should accompany the dev-ops cycle with automation and orchestration mechanisms and thus enable control and provide the most appropriate environments for each situation or need.

Is the multi-cloud environment a promising future venture?
According to the Global Tech Outlook report, conducted each year by Red Hat, the hybrid environment is the one with the largest number of users. However, the multi-cloud environment also showed significant growth.
In addition, according to HashiCorp, companies working with the cloud invest, in 76% of cases, in a multi-cloud environment. This figure is expected to continue to grow over the next two years.
Although the benefits of the cloud are well known, some companies cannot afford to use this type of solution. This happens for reasons related to privacy or the sensitivity of the data they work with. In these cases, they need a private infrastructure to host them.
It is in these cases that multi-cloud environments are presented as the major venture for the future. By enabling the combination of different platforms, they allow organisations to operate with the agility, cost and scalability of a public cloud, while collaborating seamlessly with their own systems.
Should I consider implementing a multi-cloud environment?
Before implementing the environment, companies should analyse which option best suits their work.
Due to the growth that these environments have presented in recent years and the new challenges they face, it is important to work with experienced and specialised partners. This is the only way to guarantee data security and a simple and agile user experience.
In addition, it is important to have security controls in place to enable companies to implement their own security policies for employees.
At Nexllence, we help companies define which option is best for their business, depending on their needs.
LEARN MORE ABOUT DATACENTER & CLOUD SERVICES